June 23, 2021
---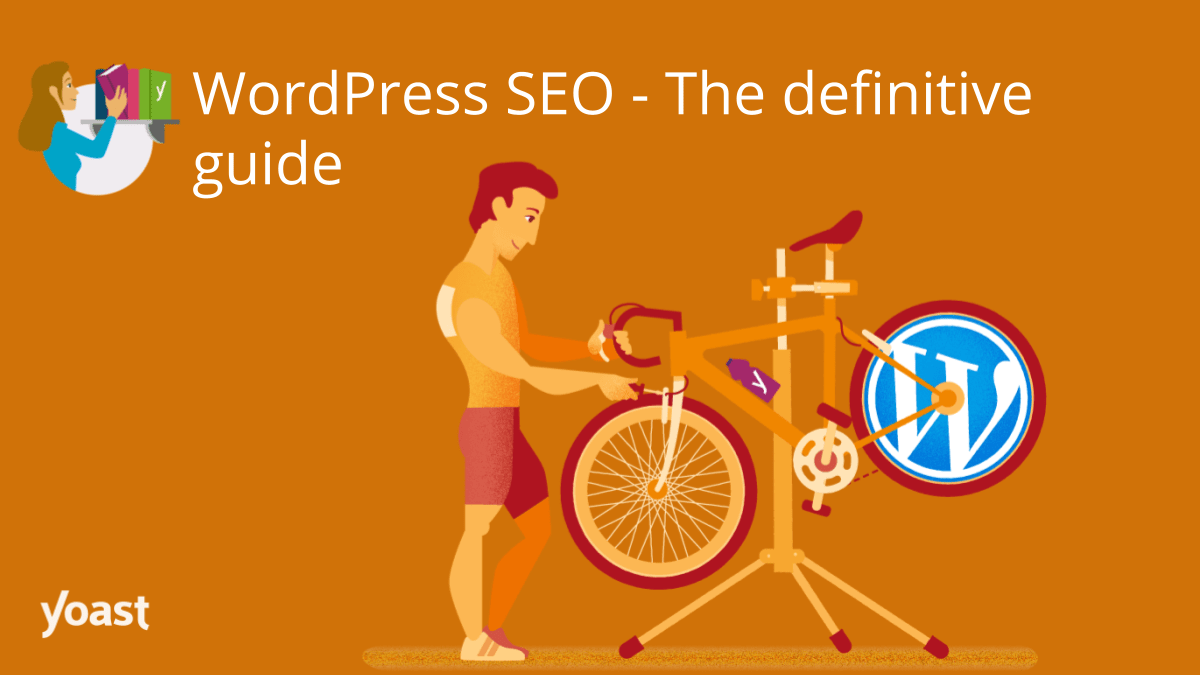 Joost de Valk
Joost de Valk is the founder and Chief Product Officer of Yoast. He's an internet entrepreneur, who next to founding Yoast has invested in and advised several startups. His main expertise is open source software development and digital marketing.
A tutorial to higher rankings for WordPress sites
This is the original WordPress SEO article since 2008, fully updated for 2021!
WordPress is one of the best content management systems when it comes to SEO. But even though it gets a lot right "out of the box," there's much more that you can do to improve your performance.
Optimizing your site using the tactics and best practices outlined in this article will help you improve your rankings, gain more subscribers or sales, and have a better website in general.
Because you should ingrain proper SEO in all aspects of your online marketing and PR, this guide covers quite a lot of ground! It's a long read, so feel free to use the table of contents below to jump around.
Before we start…
This article assumes that you're using our Yoast SEO plugin, which adds significantly more features and SEO tools to WordPress. If you're not already using it, you can set it up right away with our beginner's guide to Yoast SEO.
Read more: How much does Yoast SEO cost? »
If you're using another SEO plugin, most of the principles will still apply. Of course, we'd prefer you to switch over and make use of our potent WordPress SEO plugin, which is why we've written a migration guide for you. It's a straightforward process!
1. Get your basic WordPress SEO right
Want to learn how to build your own WordPress site?
We have an epic article on that — including hours of video. Find out how to make a WordPress website.
Out of the box, WordPress is a pretty well-optimized content management system. A basic setup can provide a strong foundation without extensive customization, theme optimization, and plugins. That said, there are a few things you should do to increase your chances of ranking, refine your workflow, and make sure your website is perfectly optimized.
By putting the right basic settings in place and applying a few simple techniques, you can ensure that you have a strong foundation to build upon!
1.1. Check your site health
Before you make any changes to your site, it is good to see where you are now. There's a lot to gain from getting it right: running your website on a server with updated software at a web host that offers excellent performance. So ask yourself: on what hardware and software are your sites running? What is your hosting plan? Are you using a budget shared hosting provider, or have you invested in a dedicated hosting plan at a well-known web host that fine-tuned its servers for use with WordPress?
To find out what's going on behind the scenes of your site, you can visit the Site Health section in WordPress. Also, you could choose to install the Health Check plugin. This plugin gives you loads of technical insights and helps you get information that outside parties can use to help you improve your site. Eventually, all features of the Health Check plugin will move to WordPress core.
Site Health gives you an overview of how your site is doing
1.1.1 Check you're using suitable hosting
According to WordPress's technical requirements page, the recommended hosting plan to run WordPress should include a modern version of PHP, MySQL or MariaDB, and HTTPS support. It is possible to work with older server software, but that is not recommended. If you check your Site Health, you can see the technical details of your installation. In addition, if you open the dashboard of your hosting provider, you should be able to see what type of plan you are on.
Remember, paying for good WordPress hosting pays dividends. Upgrading your hosting plan is one of the easiest improvements you can make.
1.1.2. Upgrade to PHP 7.0 or higher
While the numbers are going down quickly, many WordPress sites still run on outdated versions of PHP. One look at the WordPress stats reveals that around 15% of the sites still run on a PHP version in the five series, while PHP 7.0 and up have been available for years.
Backward compatibility is cool and all, but it's holding back WordPress as a technology and site owners from getting the most out of their sites. These old PHP versions don't receive any more security fixes and are thus increasingly vulnerable to attacks.
Luckily, the WordPress team has dropped support for anything older than PHP 5.6. Today, the project recommends running WordPress on at least PHP 7.3.
So, one of the most important things you can do to improve the performance and security of your site is upgrading your hosting environment to a modern version of PHP. There are a lot of benefits to this:
PHP 7 offers an incredible speed boost.
It runs a lot more efficiently, meaning less stress on your server.
Bring loads of modern development features.
It's a much safer and more secure environment.
It's future-proof.
Now, this is something we all want. If you've checked your current hosting set-up in the previous section, you have an idea of what your site runs on now. If this shows outdated server software like PHP 5.5, it is good to update this, if possible.
However, take special care before doing so. Ask for help if you're not sure what you are doing.
Here are some steps to take:
(Always!) Back up your website.
Make a local staging environment based on a modern version of PHP.
Install the backup of your site on that server.
Test thoroughly to see if everything works properly.
Upgrade your live site — most of the time, your hosting provider can do this for you.
We have a post that shows you how to set up a test environment for your WordPress site. WordPress.org has a post on the advantages of updating your PHP version and what to take into consideration when doing that.
1.1.3. Make sure you're using SSL and HTTPS
Historically, adopting SSL (getting an HTTPS URL and a green padlock icon in the browser URL bar) was an optional tactic. Many sites, arguably, didn't need the extra level of security that SSL provides.
Today, having a valid SSL certificate installed is mandatory — search engines may 'penalize' sites without valid SSL certificates and setups (and/or show warnings next to their search results). Google has mentioned that HTTPS is a ranking signal. In addition, it's generally good practice for all websites to use SSL to prevent hackers and third parties from intercepting requests and data.
Additionally, many modern site speed and performance techniques require a valid SSL/HTTPS setup. To take advantage of new, faster web technologies like HTTP/2 and the upcoming HTTP/3, browsers like Google Chrome and Firefox need the website to have a valid SSL certificate.
If you want to move to SSL and ensure that your site is served correctly over HTTPS, we have a handy guide with tips & tricks for moving to HTTPS. Since version 5.7, WordPress comes with a basic tool to make the detection of and move to HTTPS easier.
1.2. Check your site settings
It's worth spending some time clicking through all of the sections in the WordPress Settings menu, as many of the options there can impact the SEO of your WordPress site.
In particular, it's worth double-checking your visibility settings in Settings → Reading, to make sure that you're not accidentally preventing search engines from indexing your website. That'd definitely hurt your visibility!
You should also make sure that your Writing and Reading settings are all set correctly, these control your default categories, and what should be displayed on your homepage. Don't forget to give your site a strong tagline in Settings → General, too!
1.3. Pick the right permalink structure
Your permalink settings define what format your page and post URLs will take, which can have a big impact on SEO. So if you're creating a new site, one of the first things you should do is change your permalink settings, which you can find in Settings → Permalinks.
If you don't change your settings from the default, all of your pages and posts will have URLs that look like example.com/?p=123. Whilst this is perfectly okay, it's not particularly nice, and it might impact how users and search engines perceive the quality and relevance of your pages.
Changing the permalink structure alters the components, ordering, and structure of your website's URLs. Therefore, it's important to select the right structure when setting up your website, as changing it later can cause SEO issues.
We usually recommend that people use a structure that creates URLs that look like example.com/post-name/, or example.com/category/post-name/, depending on how much importance they anticipate placing on the categorization of their content. For most WordPress sites, choosing either of these options will be perfectly suitable.
For the first option, you can just change the permalink setting to /%postname%/, like so:
Changing the permalink settings to 'Post name', in Settings → Permalinks
To include the category, you can select "Custom Structure" and change the value to /%category%/%postname%/.
If you previously had ?p= as your permalink, WordPress will take care of all the redirects for you. This is also true if you change from /%postname%/ to /%category%/%postname%/.
If you have an established site and change from any other permalink structure, you might want to consult our article on changing your WordPress permalink structure and the tool that you'll find within it.
1.3.1. Choose WWW or non-WWW
You need to think about what you want your site to show up as www.example.com, or simply example.com. Make sure that in your general settings, in Settings → General, the version you want to show up is properly reflected:
Setting the site URL to include or omit 'www'
From an SEO perspective, there's little difference either way. Additionally, most hosting and server setups will automatically redirect requests for the 'wrong' version to the version you've selected. That makes this primarily a branding consideration — which approach feels best for your site?
From a technical perspective, there's not a huge amount of difference, either. Some setups might have some minor headaches if they omit the 'www' component, but these are increasingly rare.
2. Optimize your content
Your site should provide the best content on your chosen subject — period. People are looking for engaging, authoritative articles and trustworthy answers to their questions. Writing high-quality content for your WordPress site begins with your unique ideas or distinctive take on a particular topic. But it also means presenting these ideas in a well-structured and accessible manner. Together, this will help you attract the audience you're looking for and keep them engaged.
2.1. Research what your users want and need
Curious about the WordPress block editor?
Still haven't tried the new block editor? Tried, but found it confusing? We're here to help: our free WordPress block editor course explains everything you need to know!
Before writing your content, you should think about what search terms you want to be found for. Then, you should optimize every page or post for a specific keyphrase.
But how can you determine what keyphrase you want to be found for? To find out, you need to do keyword research. In this process, you should ask yourself questions: what terms do I want to rank for? How realistic is it that I can rank for these terms?
Imagine you have a baking blog, and you're passionate about sharing your favorite recipes and baking techniques. Optimizing a post for a term such as [best cake recipe] isn't a realistic goal because it's a very general term. There's a lot of competition for such general terms. Instead, it would help if you thought about finding your own niche. This niche could be [healthy, low-sugar cake recipes] or[French patisserie you can make at home].
Within a niche, you can become an expert. Your expertise enables you to create content that goes beyond that of your competitors. You can go deeper than others or shed light on different angles of the same topic. For this, you'll want to focus on long-tail keyphrases. For example, a long-tail keyphrase might be [how to make a low-calorie vegan blueberry cheesecake]. A keyphrase like this is more specific, and therefore easier to rank for. Also, it'll be more suitable for your particular niche topic.
It's also essential to think about what your audience wants to achieve by searching for a specific term. This is called search intent. For example, they could be looking for the answer to a particular question, and you can provide the necessary information. Or they might want to buy a specific product that you can offer them. Think about the needs of your visitors and address them by creating content accordingly.
Need a hand doing keyword research properly? Our Keyword research training can help. This course is part of our Yoast SEO academy. You'll automatically get access to Academy for free once you sign up for Yoast SEO Premium — two essential products for one low price.
2.2. Write great content for your users
After you've done your keyword research and know the topics you want to write about, you need to get to the actual writing. Most of the time, that's easier said than done. To get from an idea to a great piece of content, most likely, you'll have to follow a cycle of drafting, writing, editing, and rewriting.
Your first draft can be an outline of your structure. You don't have to write out everything in perfect prose at this point, but make sure that you follow a logical structure. Most pieces will include an introduction, your main points of argument, and a conclusion. Of course, this will vary per genre – a recipe will have a completely different structure.
You can further flesh out the points in the writing phase, where you try to develop a first complete version of your text. Finally, you should check whether your piece is engaging and easy to read in the editing phase. You might be an expert on your topic, but your audience probably isn't (yet). So try to make your writing as accessible as possible. Readability is essential. The readability analysis in Yoast SEO helps you improve your writing.
When in doubt, it's always best to ask a friend or colleague for some feedback. Another helpful trick is to read your text out loud to yourself. You can even let your computer speak it. It will give you a better idea of whether everything flows nicely.
2.3. Optimize your individual posts & pages
When writing or editing your post, you need to pay special attention to some elements to make it SEO-friendly. These elements include your subheadings, your title, and your meta description — all of these need to reflect the topic of the specific post.
Don't forget, SEO-friendly doesn't just mean that it's easy for a search engine to grasp a page's topic. More importantly, it means that your visitors can get the gist of your page at a single glance.
Your meta description and your title might be a deciding factor for whether visitors click on your page in the search results in the first place. And once they've visited your site, elements like subheadings can be critical for visitors to decide whether they want to stay on your site.
2.3.1. Set your focus keyphrase(s)
One important rule is not to use a focus keyphrase on more than one page. Otherwise, you might end up cannibalizing yourself. Most of the time, you don't want to rank for multiple pages on the same keyphrase because it means that you're setting yourself up as your own competition.
It's also essential to include the focus keyphrase in crucial elements of your post, such as the title, the introduction, your subheadings, and your meta description. All of these elements are signals for what your post is about. Since your focus keyphrase is, in fact, the main topic of your page, it's a logical consequence that you should make sure this topic is reflected in all of these elements.
The same logic holds for your text overall: you need to make sure that you don't stray off-topic; if you stay on-topic, it should follow naturally that you use your keyphrase multiple times throughout your text. But avoid stuffing your writing with your keyphrase just for the sake of it. If you find it hard to include your keyphrase in your text a sufficient number of times, it might be a sign that you should take a different approach to the topic.
To avoid repetition, you can use synonyms. Synonyms are words that mean the same or more or less the same as your keyphrase. An example of this is the words film and movie. Search engines will recognize that they have the same meaning, which you can also check by having a look at the search results: if you search for movie, film will also be highlighted in the results, and vice versa.
You can also make use of related keyphrases to optimize a single page for similar, related terms. You can use these to give context to your keyphrase. For example, if your keyphrase is [pumpkin soup], your related keyphrase might be [winter weeknight dinners]. This second, broader term gives additional information about your topic. It can also create coherence by establishing a link to similar pages on your post.
The Yoast SEO Premium analysis makes it easier to optimize your post thanks to word forms, synonyms, and related keyphrases. Not only that, but Yoast SEO also comes with a Semrush integration that helps you find related keyphrases — including volume and trend data.
The related keyphrase feature is powered by Semrush data and can help you do keyword research
2.3.2. Optimize your permalink
In most cases, your post's URL should probably contain your focus keyphrase, so that it's obvious what your page is about from the link. That said, you should always try and keep your permalinks short, descriptive, and clean — don't put unnecessary words in for the sake of it!
Before you publish new posts or pages, you may also wish to consider removing 'function words' from your permalink. These are words like "a", "and", and "the". When done carefully, this may make your permalinks more readable, and easier to use or link to. Posts with especially long titles may benefit from this approach.
For posts that you have already published, we'd recommend being careful when changing permalinks. If people have already linked to your pages, changing the URLs may make a mess. Even though WordPress will sometimes redirect users to the new location (the redirect manager in Yoast SEO Premium handles this automatically and more reliably), changing URLs can impact performance.
2.3.3. Optimize your page title
Each page's title — the contents of the HTML