September 1, 2020
---


Web Hosting United States, Domain Registration | Neolo -50% Today
Latin America
Europe
North America
Asia
Oceania
Africa
Domains
A domain is the name and digital identity your business or your project has on the Internet.
Email
Create a professional email account with your own domain name quickly and easily. It is safe, builds a positive image of your company and boosts your sales.
Web Hosting
Web Hosting is a service providing space in servers that work 24/7 to have your website and emails available online. We have different pricing plans for all your needs.
Website
A Website is the best way to have an online presence for your project or business. You can build it yourself or get a professional web designer to do it.
Web Security
Web Security is key to get a trustable domain and website. Get your SSL certificate and keep your website malware free to increase your sales.
Easy and fast. So you can focus on your business.
We offer high-speed service, customer service at all times, affordable prices and quality guaranteed.
Choose a plan hosted in the USA
We answer 7 out of 10 questions in less than 1 hour.
Lower price than almost all of our competitors.
Get 50% OFF your first payment.
For each new client we get we plant 1 tree to help fight climate change.
Unlimited Plan
unlimited domains
Professional email address
Unlimited disk space
unlimited MySQL
SSL free
WordPress quick install
Website Builder
As low as
$ 3.50 /month
On Sale: Save 50%
$ 7 /month after renewal Get plan
Plan 1
RECOMMENDED
1 domain
Professional email address
Unlimited disk space
unlimited MySQL
SSL free
WordPress quick install
Website Builder
As low as
$ 1.63 /month
On Sale: Save 50%
$ 3.25 /month after renewal Get plan
Plan 0
1 domain
Professional email address
Unlimited disk space
no MySQL
SSL free
 
 
As low as
$ 1.50 /month
On Sale: Save 50%
$ 2.99 /month after renewal Get plan
30 days moneyback in all our plans
All Neolo Web Hosting plans include:
cPanel
Unlimited web space
Unlimited email accounts
Unlimited transfer
Unlimited subdomains
Free migrations
Compatibility with Google Apps and Office 365
Unlimited technical support plus 768MB RAM Burst by Cloudlinux
Free Auto SSL
Softaculous and WordPress compatible (except Plan 0)
PHP versions: 5.5, 5.6, 7.0, 7.1 and 7.2
Compare all the plans specifications
¿Cómo se comparan los planes de Neolo con la competencia?
Precios expresados en USD dólares estadounidenses
GoDaddy
Economy Hosting Plan
$35.88
$95.88
1
100GB
Ilimitado
HostGator
Hatchling Plan
$33.00
$83.40
1
Ilimitado
Ilimitado

Optimized web hosting servers
PHP 7.4, 7.3, 7.2, 7.1, 7.0, 5.6, 5.5
192MB RAM php per process
Premium Plans: Up to 512MB RAM php per process
Cloudlinux to isolate hosting accounts: If one account is saturated, it does not affect the others.
Apache Server + Cache + Anti DDOS
Guaranteed bandwidth of 200mbps.
Mod Security: Custom Anti-Hack rules for WordPress.
MySQL: 5.7 with PhpMyAdmin.
Zend Engine – Ioncube 10
Zip enabled.
Mod_rewrite: ON.
File Uploads: ON.
Register Globals: OFF.
Support Zlib.
XML support
Session Save Path: Writeable.
Curl enabled.
Magic Quotes: OFF.
GD enabled.
iconv, intl and mcrypt and mbstring enabled
More than 10,000 customers from 79 countries trust Neolo
Payment methods
Get the best value for money Web Hosting in the United States!
Host your website in Neolo United States. You will not regret it. Neolo guarantees that your website and your professional email accounts will work 24/7.
We have received international recognition for our Web Hosting online time, the expertise of our technical support and for our web page load speed. We are cheaper than our competitors and we offer a 30 day money back guarantee.
All shared hosting & email account plans in the United States include:
Free Cloud Hosting
All of our hosting servers are cloud hosting servers. This guarantees the best performance for your website.
Everything unlimited
Unlimited space and data transfers for your website. No need to worry.
FREE Migration
Our migration team will move your website to Neolo for free, when possible.
Emails and redirects
Available through web or via app. For desktop and mobile devices.
MySQL databases: Unlimited
WordPress, Joomla, Drupal, blogs, forums, CMS, e-commerce. All the MySQL that your project requires, except on Plan 0.
Neolo Website Builder
Create and publish your own website in 3 easy steps. We offer thousands of templates to choose from.
Free Search Engine Submission
Your website showing up in Google, Yahoo and Bing search engines.
Neolo Mobile
Access to cPanel and Webmail available from your mobile device.
Antivirus
Security is our #1 priority. All emails and web content is scanned for viruses.
Daily Backups
Generate and download backups of your website, every day.
cPanel
This is the easiest and most powerful control panel for web hosting.
Web Statistics
This data provides critical insights about your website visitors.
Best uptime
Websites running 24/7 with the best uptime in the industry. Servers are located in the US.
+200 Apps
1-click install Apps
Learn
+500 podcasts, videos and articles to learn about web hosting, web design, programming, online marketing and more.
Hosting for Developers
Our servers support PHP / MySQL and hundreds of pre-installed Apache modules.
24 hour support
Our customer service team is here to help you with any questions you may have. Available every day of the year, at all times.
Hosting for designers
Build your website using HTML5, CSS, Frontpage, Dreamweaver, Photoshop or Corel.
Check out these extra features for your web hosting plan:
HTTPS for your domain
Add the https: prefix in front of your domain. The information will be encrypted, therefore, your website will be more secure.
Additional security backup
Extra backup for your entire account, moved and stored on a different datacenter for added security.
Anti Malware
Keep the code of your website secure against viruses, malware, phishing and spam.
Managed WordPress Hosting
We set up, update and maintain your WordPress clean of malware. We also block spam and optimize it for Google, Yahoo! and Bing.
The #1 hosting control panel
Welcome to the most simple and intuitive panel of the market. With cPanel you manage your website, email accounts and databases.
Professional email address
Create email accounts, redirects, and access the webmail from anywhere in the world.
Security
Restrict access to certain parts of your website with passwords, look after your site with HotLink Protection, Leech protection and ModSecurity.
Domains
Configure subdomains, additional domains, parked domains, and manage DNS zones.
Apps 1-Click Install
Install thousands of applications with just one click from the cPanel.
Files
Edit and backup your files.
MySQL Databases
Create and manage MySQL databases from phpMyAdmin.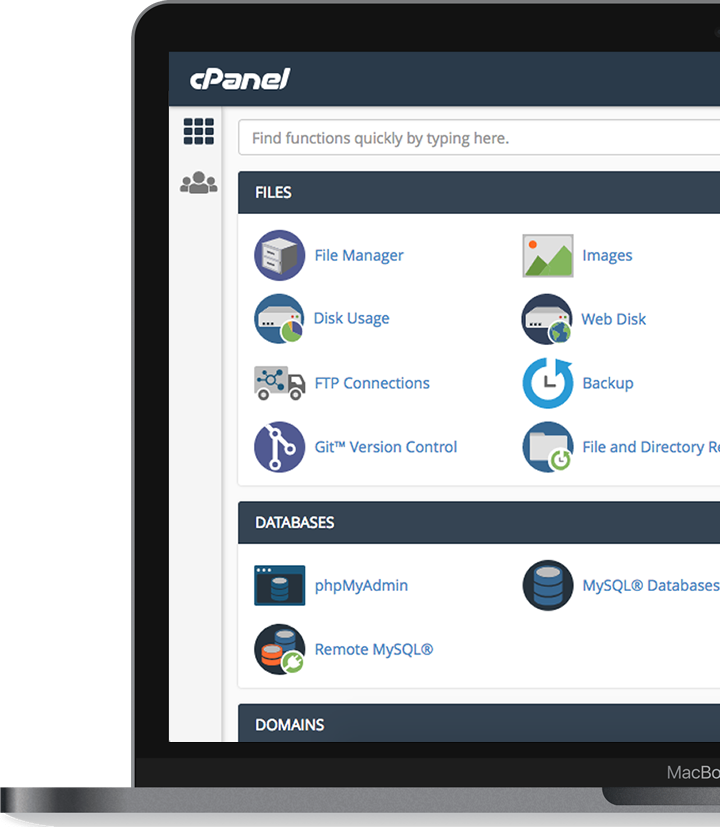 FAQ
Why does Neolo suit me?
+
Why does Neolo suit me? We have been in the market since 2002. We have already helped tens of thousands of people and organizations to turn their ideas and projects into websites that work 24 hours a day. We believe the Internet is a basic need, a human right, and that it is what allows people to express themselves, grow personally, economically and spiritually. We want to help you be online with your own project. We have servers in several countries, clients all over the world and unlike other companies, NEOLO.COM is still run by its owners. Our main investors are our clients, who support us and allow us to continue growing with them. We want your project to grow and always work, so we want to be your Web Hosting provider in the US.
What is a domain?
+
A domain is the name by which we call the websites. For example NEOLO.COM FACEBOOK.COM GOOGLE.COM are domain names.
Do you register domains?
+
Yes. We register many domain extensions, some are .COM .NET .ORG .INFO .BIZ .CO .WS .ONLINE .CLUB .GURU .LA .LAT .TODAY .MOBI .REVIEWS .US .ES among many others. We also accept those from specific countries: .AR .CL .UY .BO .PY .BR .MX .EC .NI .CA .UK .RU among others. But you must register them on your own in the NIC of each country and buy the Web Hosting with us. If you need help, let us know and we'll give you a hand.
What is web hosting?
+
Web hosting or website hosting is a service that consists of keeping your website running online 24 hours on our servers. Every time someone enters a website, they are actually accessing the servers of a web hosting provider. In addition to websites, we provide web hosting so you can have all the email accounts you want with your own domain.
What web hosting plan do I need?
+
It will depend on what you want us to host. The first thing to consider is if you will use databases. Databases are responsible for running applications such as WordPress, Drupal, Joomla, Magento, forums, blogs, shopping carts, etc. on your website. If you are, we recommend you get either Neolo's Plan 1 or the Unlimited Plan.
If your website will be developed only using HTML, CSS, AJAX and will not use any databases, then Plan 0 is perfect for you.
Another thing to take into consideration is whether you are going to host just 1 domain (name .COM .NET .ORG .CO.UK etc) or several. If you need more than one, then the Unlimited Plan is the right one for you. If you will need only 1 domain name then we suggest Plan 1.
Can I choose a web hosting plan and then change it for another one?
+
Yes, of course. You can change your plan whenever you want to. However we suggest that you initially choose the Unlimited Plan or Plan 1, which are the best sellers.
Will I have a 1 click application installer?
+
Yes. In your web hosting Plan Unlimited or Plan 1 you will have Softaculous which is the best in the market: You choose between the +200 applications that you want to install, click on install, you say in which directory you want it and ready, magic 🙂
Do you do web design?
+
We recommend you to hire the Unlimited Plan that has Neolo Builder, a super simple and professional website creator. If your project is much bigger contact us to see how we can help you.
Will I have predesigned templates?
+
The unlimited plan includes several unlimited templates. Google is also a good source of results.
How do I buy my hosting plan?
+
It's super easy. You choose a plan, complete your data and those of your website, make the payment and once accredited we'll send you an email with all the registration details so you can upload your website and configure your email accounts. You will also have access to tutorials and videos. And also our technicians for any doubt you have.
Migration: I'm with another provider and I want to change to Neolo.com: can you help me?
+
Yes. After purchasing your web hosting, we will request a full backup of your cPanel or Plask account from your previous provider in order to be able to migrate it. If in your previous provider you used another control panel, tell us and we'll analyze if we can migrate it, if not we'll explain how to do it, usually it's not complex at all. In case you need to transfer your domain to Neolo, you can also do so by purchasing your web hosting plan or your domain transfer.
I have already paid. How long does it take to be discharged?
+
Payments made through electronic platforms such as PayPal, credit cards and debit cards are instantaneous.
DNS: What are they? Are they white label?
+
DNS are names of servers that are responsible for connecting people entering your domain with the servers of NEOLO.COM and content hosted in your web hosting account. Our DNS are: ns1.lineadns.com and ns2.lineadns.com. They are completely white label, so if your account is reseller, VPS or Dedicated Server, you can also use them.
Is there a limit to the number of emails to be sent?
+
We all want that mails reach the inbox, so spam is prohibited. You can send up to 150 emails per hour, it's a limit more than reasonable and superior to the rest of the providers. With regard to the number of mail accounts you can create, they are unlimited and you access them through your favorite mail program, mobile device, or webmail.
Do you do backups?
+
We make 1 full backup of all hosting accounts up to 2GB per week and move it to another datacenter. However, we advise that you also make and download your backups from your control panel
Will I have SSH?
+
Providing SSH in a shared hosting is unsafe and is a bad practice for web hosting providers, so we do not provide SSH in the shared hosting, however, if you hire a VPS or Dedicated Server, we can provide SSH Root.
Do you accept hosting for online games?
+
Not for shared hosting. But if it's a Facebook app you'll need to hire a VPS. If it is a game server then no, we do not offer.
How long does it take to set up a new Hosting in Neolo?
+
The registration and configuration of a new website, Web Hosting and professional emails, is instantaneous.
Considers that credit and debit card payments are instantaneous, but the other payment methods may take up to 72 hours to impact.
Therefore, we advise you to pay by credit or debit card because the activation is automatic, there is no human intervention :).
What are professional e-mails?
+
By hiring your Neolo Hosting plan, we provide you with unlimited professional email accounts.
You can store all the emails you want.
Access your professional email account of type name@company.com from your mobile device, your computer and your tablet.
What are MySQL databases?
+
MySQL databases are used to allow your website to have a blog, forum, or even install applications such as WordPress, Joomla, Magento, among others.
For the little difference in money between Plan 0 and Plan 1, we recommend you to hire a Web Hosting plan with MySQL databases.
Can I transfer my domain or Web Hosting to Neolo?
+
Yes! Every month, hundreds of websites are migrated to Neolo.
If you have a copy or backup of your website, you can send it to us and we will display it in Neolo. Otherwise, you can upload your website from scratch or contact our technical team and we will do the migration whenever it's possible :).
Does Neolo offer me a web page creation tool?
+
Yes! We offer you Neolo Builder who is a super simple web creator: You choose a web design and you complete the content.
You can also create your website with WordPress: You can install it with 1 click from the Neolo cPanel.
We also offer tutorials, help guides to assist you better.
I have a domain in another provider: Can I host the domain in Neolo?
+
Yes, of course.
You can have the domain in the company you want and Hosting in Neolo, and vice versa.
Should I hire the domain and Hosting in Neolo?
+
Sì, assolutamente.
You should always hire everything in the same provider.
In case you have any doubts, it is always better to deal with only one provider :).
Can I upgrade the plan as my website grows?
+
Yes, totally.
That's why we recommend you to start with a shared Hosting plan: Plan 0, Plan 1 or Unlimited Plan, and if your website grows in traffic and consumption resources, then you can always upgrade to a Premium Hosting plan.
Is Neolo recommended?
+
We are in the market since 2002.
We have more than 10,000 customers from 50 countries.
In addition to dedicating ourselves to Hosting, we love going to digital marketing events, giving trainings, workshops and talks so you will always see us at technology events, we are the only ones that are so open to the community. If we weren't excellent, we couldn't do it.
Can I install an e-commerce in Neolo?
+
Yes. We recommend using WordPress with the WooCommerce plugin, for that the most advisable thing is Plan 1 or a Premium Hosting plan for WordPress.
What are the Neolo reviews?
+
Our reviews ranking in United States Web Hosting is: "excellent".
Please read our reviews here: https://www.verified-reputation.com/neolo/
Do you have any questions? Our team is here to help you
Domains
Website
Web Security
Web Hosting
About Us
Email
Support