July 5, 2021
---


Message from Chief Justice Steven González
Learn more about the important new work being done to eradicate racism in our justice system..
WATCH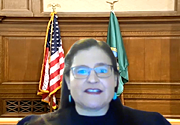 Supreme Court Reverses Tribal Fishing Case

Watch as Justice Montoya-Lewis reads the entire order that reverses the 1916 ruling in tribal fishing case.
VIDEO


Court Recovery
Task Force
Find out how the Court Recovery Task Force is working to address court impacts from COVID-19.
LEARN MORE


Eviction Resolution Program
This pilot program is helping tenants and landlords avoid eviction proceedings during COVID-19.
LEARN MORE

Events & News
On June 4, 2020, the justices of the Washington Supreme Court signed an open letter to the legal community to work together to eradicate racism. . . View the latest schedules and links to remote hearings for the Supreme Court, Courts of Appeals and county courts. . . Click here for a list of courts that have reported closures or modified operations. To reach a court directly, see our Court Directory for contact information. slides.length) {slideIndex = 1} if (n < 1) {slideIndex = slides.length} for (i = 0; i < slides.length; i++) { slides[i].style.display = "none"; } for (i = 0; i