June 2, 2021
---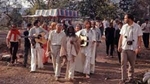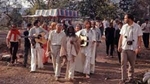 A new movie, The Beatles And India, will, aims to shed light on The Beatles' infamous trip to Rishikesh, India, in 1968. Accompanied by Donovan, Beach Boy Mike Love and actress Mia Farrow the band, prompted by George Harrison, sought enlightenment in the meditation classes of famed spiritualist, Maharishi Mahesh Yogi.
Less committed to the cause than Harrison, John Lennon and Paul McCartney met clandestinely in each other's rooms during the break to plot the next Beatles album, which turned into The White Album.
A statement released by the filmmakers says, "The Beatles And India is a unique historical chronicle of the enduring love affair between The Beatles and India that started more than half a century ago.
"Rare archival footage, recordings and photographs, eye-witness accounts and expert comments along with location shoots across India, bring alive the fascinating journey of George, John, Paul and Ringo from their high octane celebrity lives in the West to a remote Himalayan ashram in search of spiritual bliss that inspires an unprecedented burst of creative songwriting.
Source: Fraser Lewry/loudersound.com