April 16, 2021
---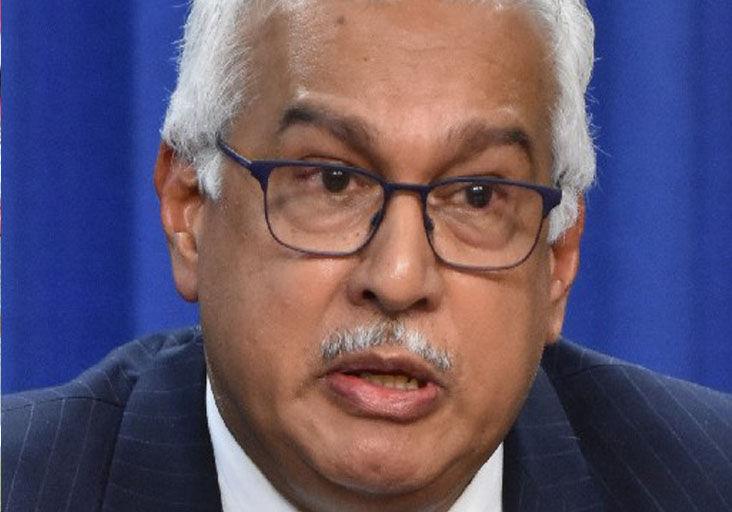 AFTER overwhelming public complaints over its Covid-19 vaccine appointment system, the Ministry of Health has admitted to "teething" problems in its national roll-out.
As a result, Health Minister Terrence Deyalsingh yesterday promised improved service in the coming weeks.
The national inoculation programme launched on Tuesday has been labelled a "success" by Deyalsingh—with uptake by the public exceeding expectations by about 30 per cent, and with some 4,777 people vaccinated around the country as of yesterday evening.
While there has been positive feedback, this has been overshadowed by an avalanche of complaints by members of the public that the telephone numbers provided were not being answered or were eventually being dropped.
Social media has, since Tuesday, been ripe with questions and complaints from people around the country, many of whom said they either took two days or were yet to secure appointments, many for elderly parents.
One Facebook user who is also a medical practitioner was among those questioning the system, stating in a post yesterday:
"So after calling all day Tuesday and Wednesday, I finally got through to Chaguanas today (on my 24th attempt for the day) and got an appointment for my mom to get her vaccine. I'm pretty relieved but more than a little irritated. It's a prohibitively tedious process. We could do better."
There are 21 vaccination sites across T&T, and some people said they had "worked the phones" until they were able to secure an appointment, several at health centres outside their area of residence.
Deyalsingh told the Express in a telephone interview yesterday that demand for the Oxford-AstraZeneca vaccines, which arrived last Tuesday from South Korea via COVAX, had outweighed what was projected, and this had been recognised.
"People are just responding and we recognise that we can't depend solely on the lines," Deyalsingh said. "We will be adding another layer of communications via WhatsApp messaging from Monday, so people don't have to hang on and wait," he said. The minister also said, "And then, by the end of next week, we are adding the online registration process."
Daily targets
In a statement yesterday afternoon, the ministry thanked the public for the high levels of Covid-19 vaccine uptake throughout the country.
"The ministry acknowledges the teething issues that exist and advises the public that it is continuously evaluating the system and is in the process of implementing solutions aimed at customer service improvement," the release stated. "The public will begin to experience the impact of these improvements over the course of the next week. In spite of these challenges, daily targets are being met and even surpassed in some instances," the ministry said.
Of the 4,777 people who have received the vaccine, no adverse events were reported, the ministry said, including 1,137 healthcare workers who were administered the first batch of Covid-19 vaccines from a donation by the government of Barbados.
"Currently, healthcare workers and persons aged 60 and over with non-communicable diseases (NCDs) (such as hypertension and diabetes) have been prioritised to receive the vaccine," the ministry noted. Deyalsingh said "by and large, the uptake has been a lot greater and we're crossing 1,000 shots a day, easily".
He said the Government was also accelerating the provision of mass vaccination sites, while a facility to serve the wider Port of Spain area was expected to be operationalised in "two to three weeks".
Jumping the line
Deyalsingh was asked to address further complaints by some clinic patients that they were being "jumped" by people who were not outpatients and who, while over the age of 60 years, may not be suffering from chronic diseases.
He said the vaccination drive was already streamlined to address age and chronic disease in that only people over 60 and those with chronic illnesses would be vaccinated. Clinic patients were being automatically registered to be offered the "jab" on their scheduled visits, whether they were dates for "this week or next week", he said.
It was pointed out that some clinic patients would have received dates for later this year, which the minister noted, and said people with clinic dates will have to wait for that day. "What is happening is that everybody wants to be vaccinated now," Deyalsingh said.
"That can't work."
No silver bullet
Deyalsingh noted that Chief Medical Officer (CMO), Dr Roshan Parasram, has advised that the expiry date of the COVAX vaccine shipment is May 31 and that a decision would be made, when the tranche is half-issued, as to "do we hold back for the second dose or do we run out and vaccinate 33,000 people with their first shot". A donation of 40,000 more AstraZeneca vials is also expected next Monday from the government of India, the expiry date of which is not yet known.
"Only when we get that shipment Monday and we get the expiry date, then we will know what the strategy is to utilise it, in conjunction with what we have now. We will continue to administer the COVAX shipment until we reach halfway," he said.
To ensure that vaccines reach the most vulnerable in the more rural areas, Deyalsingh said the Eastern Regional Health Authority (ERHA) has launched a mobile assistance service.
"The ERHA is a very rural area but we are making every effort to reach people," he said.
The minister went on to appeal again for compliance with the public health regulations, saying while the vaccines offered "one more very good layer of protection", they were "not a silver bullet".
The ministry's release noted that "only vaccines that have attained WHO approval and have undergone rigorous scientific and clinical analysis, in keeping with the highest vaccine testing standards, are used in Trinidad and Tobago".
Members of the public who require further information on Covid-19 or the Covid-19 vaccine should visit the Ministry of Health's Covid-19 web page (health.gov.tt/covid19) or call the Covid-19 hotlines at 800-WELL or 877-WELL (9355) in Trinidad, and 800-HEAL (4325) in Tobago.