April 6, 2021
---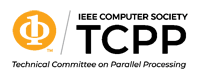 and
IEEE Computer Society Technical Committees on Computer Architecture & Distributed Processing

35th IEEE International Parallel & 
Distributed Processing Symposium
May 17-21, 2021
Portland Hilton Downtown
Portland, Oregon USA
TO BE HELD VIRTUALLY
IPDPS 2021 UPDATES & ALERTS
IPDPS 2021 KEYNOTE SPEAKERS ANNOUNCED
The Main Conference will feature four keynote presentations, with three to open the program on Tuesday, Wednesday, and Thursday and a fourth on Wednesday following the technical sessions. They are currently scheduled as follows. Return here for details.
Tuesday, May 18th

Ilkay Atintas
San Diego Supercomputer Center

Wednesday, May 19th

Lorena Barba
George Washington University

Wednesday, May 19th

Guy Blelloch
Carnegie Mellon University
2021 Babbage Award Recipient

Thursday, May 20th

Jason Cong
UCLA
IPDPS 2021 IMPORTANT DATES
IPDPS 2021 To Be Held Virtually
On January 15, 2021, it was announced that IPDPS 2021 will be held virtually. This does not impact the publication of the IPDPS 2021 proceedings, and IEEE will be hosting the accepted authors' work on Xplore following the conference. Planning is underway to conduct a virtual program that will allow live sessions of invited speakers and author presentations, supplemented by online and on-demand material including videos, slides, and recorded discussions. Return here for details.


Tweets by @IPDPS

34th IEEE International Parallel & Distributed Processing Symposium
May 18-22, 2020
New Orleans, Louisiana USA
(Held virtually during the week of the conference)