September 10, 2020
---

Hosting Plans Optimized For WordPress Websites
WordPress Web Hosting Sale! – Save 15% Off Your Order By Entering The Coupon Code 'herotoday' At Checkout
Starter Cloud Plan
$3.95/mo
Was $7.95
Perfect for new WordPress websites
Free Domain Name For Life

HostHero will register a new domain name or transfer an existing domain you own free of charge. The free domain registration or transfer is for the first year. Domains will renew at the regular price listed on our website.

Note: The free domain registration or transfer is offered if you choose a 1, 2 or 3 year billing cycle.

Unlimited Diskspace

There are no set limits on the storage space that we provide in our shared hosting plans. We want you to have the resources you need to build a great online presence, and 99% of all customers will have more than enough storage space to meet their needs.

That being said, we do require all customers to be fully compliant with our Terms of Service and utilize storage space in the normal operation of a personal or small business website. While it is rare, we may need to put constraints on accounts that are using resources beyond what would be expected in the normal operation of a personal or small business website.

Typically, customers only run into issues if they use their accounts for storage or file sharing, which is not what our services are intended to support.

Unlimited Bandwidth

Bandwidth is the amount of data that you are able to transfer between your website account and the visitors of your website. HostHero's unlimited bandwidth offering allows you to never worry about exceeding your bandwidth limitations!

Unlimited MySQL Databases

You can create an unlimited number of MySQL databases and database users. There are no limits to the number of databases or the size of the database itself, truly unlimited!

Unlimited Email Accounts

You can create as many email addresses as you need. Our email service supports both IMAP and POP3 so you can use your favorite email program to setup your email accounts.

You can also create unlimited email addresses for additional domain names you setup in your account. Our service includes Webmail as well which means you can check your email from anywhere in the world using a web browser.

There is no limit to the size of each email address, your quota is unlimited.

Unlimited Addon Domains

you can host multiple domains on a single account. You can also point your domains to specific locations or park your domains on a single website.

Unlimited Sub-Domains

You can also create unlimited sub-domains. A sub-domain gives you the ability to put a prefix before your domain name. An example of this would be blog.yourdomain.com. HostHero provides you with the tools to quickly setup sub-domains for your main website and for any other domains you are hosting with us.

Performance Boost

With Performance Boost you'll be able to use 80% CPU on the Business Cloud plan and a full 100% CPU on our Premium Cloud plan. The Starter Cloud plan allows you to use 40% of the CPU.

Search Engine Submission

Get your website listed on all the major search engines including Google, Yahoo and MSN which combined send over 90% of all internet search traffic! Let our search engine submission specialists, submit your website to over 200 of the world's largest search engines, so you can start appearing in natural search listings and receive free site traffic.

Note: Performance Boost and SEO are included on the Business Cloud and Premium Cloud plans only.

Private SSL Certificate

Increase the confidence of Web site visitors and reach the full online potential of your business. Secure your customers data and accept credit cards directly on your website. With our Private SSL certificate your website will be loaded using HTTPS and the browser will show a lock icon giving your customers confidence in knowing their information is being transmitted securely. SSL certificates are highly recommended for e-commerce websites that request personal information from their visitors.

Note: The Private SSL Certificate is included on the Premium Cloud plan only.

Premium Backup Service

Our Premium Backup Service is a one-of-a-kind website backup service for your website files, databases and emails. Literally every aspect of your hosting account is backed up in detail for up to 5 days, so you can go back a few hours or a few days if needed. Backups are done on a remote server and a restore can be requested at any time.

Note: The Premium Backup Service is included on the Premium Cloud plan only.
MOST POPULAR
Business Cloud Plan
$7.95/mo
Was $15.95
Designed for small to medium WordPress sites
Premium Cloud Plan
$15.95/mo
Was $31.95
Optimized Hosting for WordPress
Not Sure Which WordPress Optimized Hosting Plan is Right For You?  Compare All 3 WordPress Plans
Hosting plans designed specifically for WordPress with all the tools you need.

Free Domain Name
We'll register a new domain or transfer your existing domain free of charge for the first year with all WordPress hosting plans.

Free WordPress Migration
Switching to us is easy! We'll move your entire WordPress website from your current host hassle free.

Unlimited WordPress Websites
Host unlimited individual websites on all of our hosting plans. Install multiple instances of WordPress with ease.

Unlimited Email Accounts
Create unlimited POP or IMAP email addresses for your websites with webmail access.

One-Click WordPress Install
Install WordPress with our 1-click installer and have your site online in minutes!

WordPress Security Bundle
Our CSF firewall will protect your WordPress website from login attempts and other malicious activity.

24/7 WordPress Support
We host thousands of WordPress websites and can help you navigate WordPress if you need a hand.

cPanel Control Panel
All plans come with cPanel, the leading web hosting control panel.

Money Back Guarantee
We're sure you'll love our WordPress optimized hosting but just in case we'll give you a full refund within 30 days.
With our one-click WordPress installer you can have your WordPress website online in minutes. Using the WordPress Dashboard you'll be able to create pages, install any theme and plugin you'd like.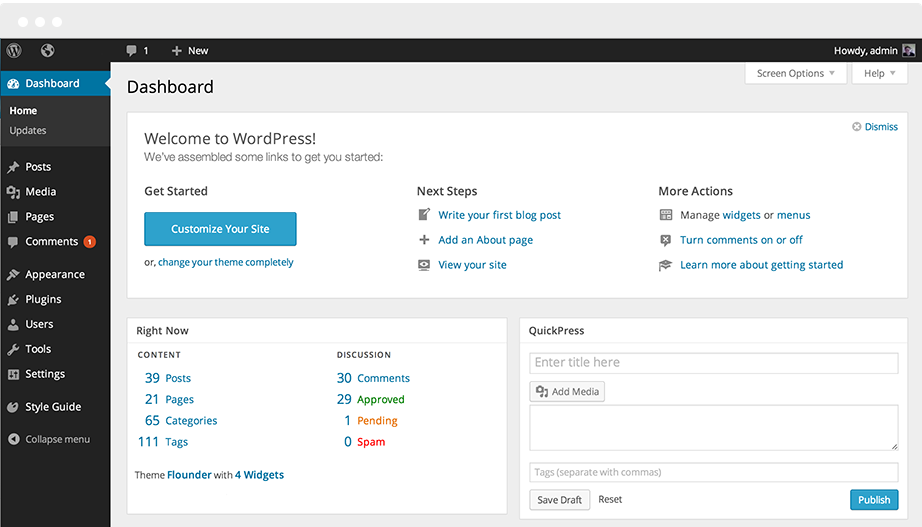 Have questions? We've got you covered. Find answers to our most common questions below or speak with us on Live Chat
What is WordPress?
WordPress is a free open-source software that allows you to build a website without any coding or technical skills required. You can install thousands of themes to customize the appearance and then manage your website from the user-friendly WordPress Dashboard.
What billing cycles do you offer?
You can choose a monthly, 6 month, 1 year, 2 year or 3 year term. The longer the term you choose the cheaper the price. You can change your billing cycle at any time.
What payment methods do you accept?
We accept Visa, MasterCard, as well as Visa debit cards. We also accept PayPal payments.
How does the 'Free Domain' work?
We offer a free domain registration or domain transfer if you signup on a 1, 2 or 3 year billing cycle. We'll register or transfer your domain for free for the first year. Domains will then renew at the regular rates listed on our website. Domains are registered in your name and you retain full ownership.
Can I use any WordPress Themes or Plugins I want?
Yes! Our WordPress hosting plans are compatible with ANY theme or plugins you plan to use. Whether it's a free or paid theme it will work 100%.
Can I upgrade between WordPress Hosting plans?
Yes, you can switch between hosting plans at any time and our prices are pro-rated meaning you simply pay the difference of the new plan. Upgrades are instant between WordPress hosting plans and there is no downtime.
Can you help me install my WordPress theme?
Yes, for a small one-time fee we can setup, configure and install your WordPress Theme. Simply submit a support ticket and our techs will explain the process.
Do you offer a Money Back Guarantee?
Yes, We offer a full 30-day money back guarantee on all shared hosting and reseller hosting plans. If you're not satisfied we'll provide a full refund for hosting services minus the cost of the domain name registration.
How does the one-click WordPress install work?
Inside your cPanel hosting control panel you'll see a WordPress icon. Once clicked you can click 'Install' and will be guided through the steps to install WordPress on your domain name.
"I've been with HostHero for over 3 years. I have 2 WordPress sites and their optimized plans definitely beat the competition. I like the security bundle that actually protects my two sites from hackers and malware. The HostHero team is a pleasure to work with and they have always been available when I needed some extra help."
Tony Anthopolis, Realtor – Toronto, Canada.

Source