June 3, 2021
---
High Performance Windows VPS Hosting with
Windows Server 2016 and MS SQL.
Use Coupon code
" vps20 "
Windows VPS Hosting India
Affordable and high performance Windows based virtual private servers.
Windows VPS Starter
999/Mo
2vCPU Core
3 GB RAM
500 GB Data Transfer
60 GB Storage
Plesk (Optional)
Admin RDP Access
24×7 Support
30 Days Money Back
Windows VPS Business
1799/Mo
3vCPU Core
4 GB RAM
750 GB Data Transfer
90 GB Storage
Plesk (Optional)
Admin RDP Access
24×7 Support
30 Days Money Back
Windows VPS Enterprise
2599/Mo
4vCPU Core
6 GB RAM
1000 GB Data Transfer
120 GB Storage
Plesk (Optional)
Admin RDP Access
24×7 Support
30 Days Money Back
Windows VPS Corporate
3399/Mo
6vCPU Core
8 GB RAM
1500 GB Data Transfer
150 GB Storage
Plesk (Optional)
Admin RDP Access
24×7 Support
30 Days Money Back
Host Multiple
Websites
Host multiple websites based on ASP.NET, MS SQL, MS Access or any of the Microsoft technologies with our Windows VPS Hosting.
Remote Desktop
Access
Administrator RDP access is included with all Windows VPS instances. Use any PC, Mac or smartphone to easily connect to your VPS via RDP.
Windows Server
2016/2019
Our Windows Virtual Private servers are built on the latest Windows Server 2016/2019 environment fully licensed with perpetual access to Windows Updates.
ASP .NET
4.8
With ASP .NET 4.8, develop & host high performance ASP.NET based websites/applications in a managed hosting environment.
Guaranteed
Resources

With guaranteed resources such as CPU, Memory and Storage allocated to each VPS, high performance is a norm.
Managed VPS
Hosting
Every Managed VPS includes 24×7 world-class Technical Support and expert assistance to keep your server running up-to-date with security patches, OS updates, and more.
Remote Data
Backups
With optional R1Soft Backup solution, you have the ability to configure and maintain backup of your important data as per your preferences.
Optional Control
Panel
Choose optional Plesk CP based on number to domains to host. Control panel provides a web based interface useful in administering several website functions.
Managed VPS Hosting Includes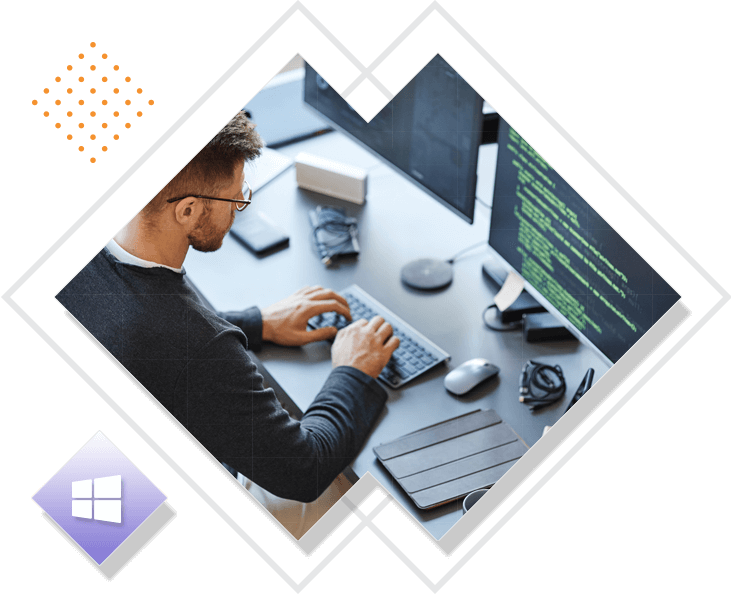 Windows VPS hosting offers numerous advantages to businesses.
The fundamental advantage of windows VPS hosting is not just cost savings, but also dedicated amount of resources and scalability. Being virtual in state, Windows VPSs can be setup and scaled in different ways very swiftly and cost effectively.
Host your websites while letting us manage the server for you. With Host.co.in Windows VPS. there is no need for you to hire server management staff or invest in loads of hardware and infrastructure that you may never fully utilize.
Why Choose Host.co.in?
With Host.co.in, stand apart in the sphere of World Wide Web with fully managed hosting for your business website needs enabling you to focus on smooth execution of your core business.
Managed Hosting keeps your server running up-to-date with security patches, OS updates, and more. 24×7 Exuberant customer support for any issues along with onsite hardware support to ensure maximum uptime.
Proactive Monitoring of hardware & network by our experts helps detect performance issues and bottlenecks quickly if any.
With industry presence & experience spanning over 15 years, your website is in safe hands with Host.co.in!
Host.co.in VPS hosting is based on one of the best cloud based architecture with guaranteed resources provisioning a robust platform along with in built redundancy ensuring business continuity.
Frequently Asked Questions
There are no minimum term commitments you need to agree to with our VPS Hosting plans. You can cancel your VPS Hosting plan at any time by simply contacting our billing team via the client area.
We DO NOT maintain data backups of our customers' VPS. We highly recommend you to opt for remote backup solution with us or elsewhere to maintain your own copy of data which may be used for restoration if required.
Our VPS packages are powered by Hyper-V hypervisor.
Yes, you have full administrative access to your server, so you are free to customise and install the control panel and applications that best fit your specific needs. Please note we cannot provide support or assistance on third party control panels that we do not offer directly. We therefore recommend choosing cPanel or Plesk if you need a control panel on your server.
Our experienced technicians can assist you with any upgrade you may need to make in the future. In most cases, we can upgrade your server's resources without requiring a migration.
24×7 technical support via live chat, email and phone.
Yes. Just like a dedicated server, you have full control over your VPS via administrator RDP access.
Customer Service supported by professionals
Zwave inc
Mr. Israr Ahmad (ZWave Technologies Pvt. LTD)
Host has been an incredible service provider to my company for years, supporting my VPS solutions. I could not be more impressed with their response time, communication, eagerness to solve problems (and explaining the problem), and overall customer service. Whatever the issue, critical or not, they exceed expectations on response times…often receiving support within just a couple minutes. Highly Recommended!! Thanks for being Incredible! -Israr Ahmad, CTO, ZWave Technologies Pvt. LTD.
NetiApps Software Pvt Ltd
Mr. Manoj Pillai, CEO, NetiApps Softwares Pvt.Ltd.
Host has built a great reputation in the industry for their shared hosting options. Their VPS solutions, with optional cPanel support, provide a nice and easy introduction to those that are new to VPS hosting and know their needs require more than a typical shared host. Starting at low price points, Host makes transitioning to a VPS plan reasonable and doable. Host's strongest point comes from their state of the art datacenter. Featuring a fully-redundant network with no single point of failure and multiple bandwidth providers, uptime should almost never be a concern.
Matoshri College of Management and Research Centre
Mr. Yogesh Gosavi, Director, Matoshri College
Being in education sector it was important for us to have an online platform which can provide complete information about our college. The website needed to be interactive and user friendly and provide an online platform for admissions and registrations. We came across Host.co.in who offered us a complete solution including Domain Registrations, Website Development & Hosting services.
National Health Systems Resource Centre
Dr.Sanjiv Kumar, Exe. Director, NHSRC
We have moved our site to Host, and the support provided was excellent, we could not have done it without your help. "When comparing the performance-versus-price of VPS plans, Host is a solid value in VPS hosting. In addition to great pricing, they offer premium support and excellent uptime compared to other VPS options in the industry. If you've outgrown shared hosting, or need the flexibility and security of a VPS, Host is a great choice for you. We look forward to a long relationship.
Get Flat 20% off on Cloud hosting !
Starting At Only
2320/mo