March 28, 2021
---

<![CDATA[<![CDATA[<![CDATA[]]]]]]>]]]]>]]> <![CDATA[<![CDATA[<![CDATA[]]]]]]>]]]]>]]> <![CDATA[<![CDATA[<![CDATA[<![CDATA[(window.NREUM||(NREUM={})).loader_config={licenseKey:"0ae22ad83e",applicationID:"573869349"};window.NREUM||(NREUM={}),__nr_require=function(e,t,n){function r(n){if(!t[n]){var i=t[n]={exports:{}};e[n][0].call(i.exports,function(t){var i=e[n][1][t];return r(i||t)},i,i.exports)}return t[n].exports}if("function"==typeof __nr_require)return __nr_require;for(var i=0;i0&&d("lcp",[n[n.length-1]])}function o(e){e.getEntries().forEach(function(e){e.hadRecentInput||d("cls",[e])})}function a(e){if(e instanceof m&&!g){var t=Math.round(e.timeStamp),n={type:e.type};tp.offset&&t<=Date.now()?(t-=p.offset,n.fid=p.now()-t):t=p.now(),g=!0,d("timing",["fi",t,n])}}function c(e){d("pageHide",[p.now(),e])}if(!("init"in NREUM&&"page_view_timing"in NREUM.init&&"enabled"in NREUM.init.page_view_timing&&NREUM.init.page_view_timing.enabled===!1)){var f,u,s,d=e("handle"),p=e("loader"),l=e(6),m=NREUM.o.EV;if("PerformanceObserver"in window&&"function"==typeof window.PerformanceObserver){f=new PerformanceObserver(r);try{f.observe({entryTypes:["paint"]})}catch(v){}u=new PerformanceObserver(i);try{u.observe({entryTypes:["largest-contentful-paint"]})}catch(v){}s=new PerformanceObserver(o);try{s.observe({type:"layout-shift",buffered:!0})}catch(v){}}if("addEventListener"in document){var g=!1,w=["click","keydown","mousedown","pointerdown","touchstart"];w.forEach(function(e){document.addEventListener(e,a,!1)})}l(c)}},{}],5:[function(e,t,n){function r(e,t){if(!i)return!1;if(e!==i)return!1;if(!t)return!0;if(!o)return!1;for(var n=o.split("."),r=t.split("."),a=0;a <![endif]--> Skip to main content
New Report: Gartner Market Guide for
Insider Risk Management Solutions.
New Report: Gartner Market Guide for
Insider Risk Management Solutions.
New Report:
Gartner Market Guide for Insider
Risk Management Solutions.
Proofpoint gives you protection and visibility for your greatest cybersecurity risk—your people.
We provide the most effective cybersecurity and compliance solutions to protect people on every channel including email, the web, the cloud, social media and mobile messaging.
Threat Protection
Defend your #1 threat vector, stopping malware, credential phishing, and impersonation across email, cloud and mobile messaging. Orchestrate responses to detected attacks and get actionable intelligence on who your Very Attacked People (VAPs) are.
Information Protection
Get visibility into where your sensitive data is exposed across email and the cloud. Lock down access to files in the cloud, prevent data loss, and archive email and other communications to stay compliant.
User Protection
Educate your people and reduce risk with advanced threat simulations and cybersecurity awareness training. Protect them across personal webmail and web browsing.
Ecosystem Protection
Secure the digital channels you don't own. Block imposter attacks and malicious content that uses trusted and lookalike email domains, web domains, and social media handles.
Learn About Our Unique Approach

misc
We live in an immediate, I-want-it-now-world. These services are oriented to serve consumers' right-now-needs.
Martin Littmann, Chief Technology Officer and Chief Information Security Officer Kelsey-Seybold Clinic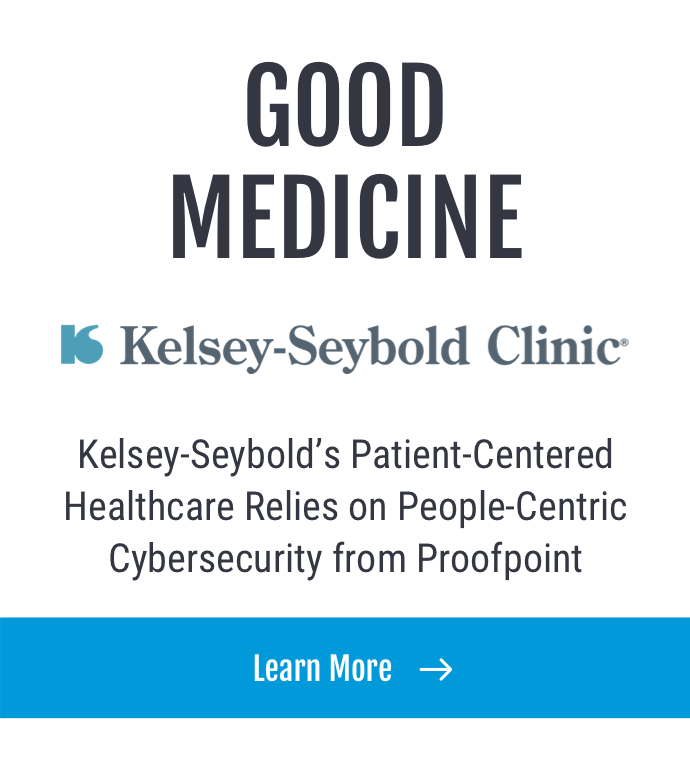 misc
We have to be able to see the latest trends and adapt to them as quickly as possible.
Seth Edgar, MSU chief information security officer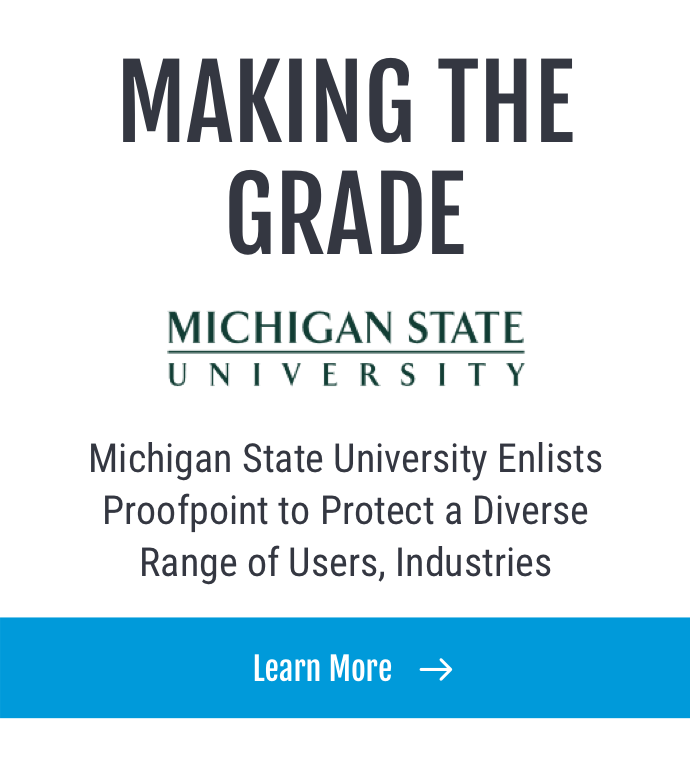 Analyst Report
Gartner Magic Quadrant for Enterprise Information Archiving
Learn why Proofpoint has been recognized nine times as a Leader in the Magic Quadrant for Information Archiving.
E-Book
Compliance in the Age of Digital Collaboration
Explore the challenges of capturing and managing Slack, Microsoft Teams, LinkedIn and more.
Analyst Report
2020 Gartner Magic Quadrant: Cloud Access Security Brokers
Learn what IT trends are driving the CASB market and why Gartner named Proofpoint a Challenger for CASB.
Awareness Material
2021 Phishing Awareness Training Kit
Engage your users and turn them into a strong line of defense against phishing attacks and other cyber threats.
Protect your organization against the latest cybersecurity threats
<![CDATA[<![CDATA[<![CDATA[]]]]]]>]]]]>]]> <![CDATA[<![CDATA[<![CDATA[]]]]]]>]]]]>]]>
<![CDATA[<![CDATA[<![CDATA[]]]]]]>]]]]>]]>
<![CDATA[<![CDATA[<![CDATA[<![CDATA[ /* */ ]]]]]]]]>]]]]]]>]]]]>]]> <![CDATA[<![CDATA[<![CDATA[]]]]]]>]]]]>]]>
<![CDATA[<![CDATA[<![CDATA[]]]]]]>]]]]>]]> <![CDATA[<![CDATA[<![CDATA[]]]]]]>]]]]>]]>

Source