March 27, 2021
---
CHEAP HOSTING
WORDPRESS BLOG
WordPress Hosting
 – $4.95/month
Blog hosting includes:
– 1-Click WP Installation
– Free WordPress Themes
– Intgrated WP Plugins
– Spam/Virus Protection
Bonus 100% FREE Trial
UNLIMITED HOSTING
Unlimited Web Hosting
  – $9.95/month
130% Green Energy host:
– Unlimited disk space
– Unlimited bandwidth
– Host Unlimited Sites
– PHP, MySQL, FrontPage
– $50 Google AdWords
Bonus: NO Setup Fees
BEST WEB HOSTING
also review web hosting
– Reseller plans, and best VPS hosting
specially for our visitors
Free Icons


to use for your website
or other projects
and comming soon: Increase Page Rank
Improve Page Ranking
tools and services
Cheap Dedicated Servers: Linux and Windows
Check the following list of cheap dedicated web hosts that offer complete Unix/Linux or Windows web server based dedicated hosting solutions packed with all the required dedicated server cheap hosting features and tools to host your web server at the lowest price possible.
Browse the cheapest dedicated hosting plans below to find your best dedicated server deal:
(this web page was last updated on 1-Aug-2017)
Price: 39.95 /mo
Setup fee: FREE setup
ServerPronto
Cheapest Dedicated Servers by ServerPronto
Windows 2008/2016 or Linux (CentOS, FreeBSD, etc.) servers:
» Dual-Core AMD Athlon 260 Regor 3.2GHz,
» 3 GB of RAM, 500 GB SATA2 Hard Drive, or SSD available,
» 5,000 Gigs monthly traffic (non Cogent), 100 Mbps connection
» FREE Webmin Control Panel or cPanel/whm at additional fee, software firewall, and full root access to the server.
Special offers
1. just $29 /month cheapest dedicated server – click here
2. get a 10% off discount with ServerPronto coupon code
Server Pronto cheap dedicated server price is $39.95 /month and a completely FREE SETUP (no setup fee) even if to pay monthly, as well as 7-Day money back guarantee. Now offers Green Hosting.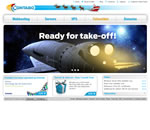 Price: 39.99 /mo
Setup fee: FREE setup
Contabo
Cheap Dedicated Web Servers by Contabo
Cheap Linux (Cent OS, Debian, Fedora, etc.) or Windows Servers
» Intel Core 2 Quad (4 x 2.40 GHz),
» 8 GB RAM, 800 GB or 2×400 GB hard disks,
» UNLIMITED traffic, 100 Mbit/s port, no restrictions, no throttlin,
FREE Webmin control panel, free LAMP setup, or Plesk/cPanel for an addon fee, included 1 IP address, /64 IPv6 network.
Live support every day, 365 days a year via e-mail and telephone, DDoS protection, Reboot web interface, OS reinstall consol, etc.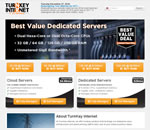 Price: 59.99 /mo
Setup fee: FREE setup
TurnkeyInternet
Cheap Dedicated Server Hosting by TurnkeyInternet
Low cost Linux (CentOS, Ubuntu, Debian, etc.), Windows Server
» Dual Xeon X5650 Hexa-Core CPUs @ 2.66 GHz,
» 32 GB RAM, 240 GB SSD hard drives,
» Unmetered Bandwith, 100 Mbit Network Port,
FREE OS reloads, FREE basic DDOS Protection, IPv6: /64 Subnet, IPv4: 1 usable address, Cpanel, Plesk, DirectAdmin available.
Turnkey Internet provides a FREE website and server migration, and a discount price of $53.99 USD per month if to pre-pay yearly.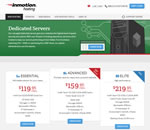 Price: 149.95 /mo
Setup fee: FREE setup
inMotion Hosting
Low Cost Managed Dedicated Servers – $149.95/month
Provides affordable managed dedicated hosting at:
» Intel Core E5400 2.4GHz+, 4 GB RAM, 500 GB SATA drive,
» 6,000 GB monthly bandwidth, 5 IP addresses included,
» cPanel control panel (included), and CentOS 6 Linux OS,
100% in-house U.S.-based tech support, individual custom firewall.
inMotion cheapest dedicated server price is $149.95/mo if paid monthly, and as low as $119.95/mo if you don't mind annual billing.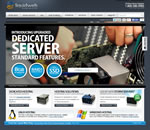 Price: 179.00 /mo
Setup fee: FREE setup
LiquidWeb
Affordable Dedicated Servers by LiquidWeb
Choose Linux (CentOS, Ubuntu) or Windows Server 2012:
» Intel Xeon E3-1220 V2 3.5GHZ Quad Core,
» 8 GB RAM, 2×1000 GB SATA hard drives in RAID1,
» 1000 GB Backup Drive, 120GB SSD Drive for MySQL database,
Support Plesk or cPanel/WHM control panel, LiteSpeed server,
and 5000 GB Outbound Premium Multi-Homed Bandwidth.
Completely managed dedicated servers from $179 /month
with 24/7 Pro-Active Monitoring, Phone and Helpdesk support.
Other Dedicated Hosting, VPS and shared hosts:
Are you looking for lower price dedicated hosting solutions? – in this case you can check the chosen cheap virtual private servers listed on the page;
or you'd like even cheaper web hosting plan? – visit cheapest hosting plans page, or low cost ASP hosting related page. You might also like to check several very recommended cheap web hosts with cPanel support, or unlimited domains hosting plans;
and if you are concerned about the ecology, check our green energy web hosting page that lists ECO-friendly web hosting providers that use a renewable energy of wind power;
or maybe you need some extra cheap webhosting features? – in this case you can check e.g. web hosting pay by PayPal, or web hosting SSH support, or web hosting PHP 5, or perhaps you prefer to use website hosting FrontPage support services;
and some of the best cheap reseller host plans are listed on PRchecker.info webpage that reviews best hosting reseller service providers and their features;
in case you do not have any budget at all to host your website, we can advice you to visit our best free hosts page where you can pick some free webspace, and you might also want to consider free website builder page that should help to create a website easily;
looking for discount webhosting promotions? – get up to $25 OFF discount from the most rcustomer-friendly web host – check LunarPages coupon page;
and for the best shared web hosting provider you might want to visit the web page with reviews of web hosting top 10 services submitted by our visitors (NEW page).