July 5, 2021
---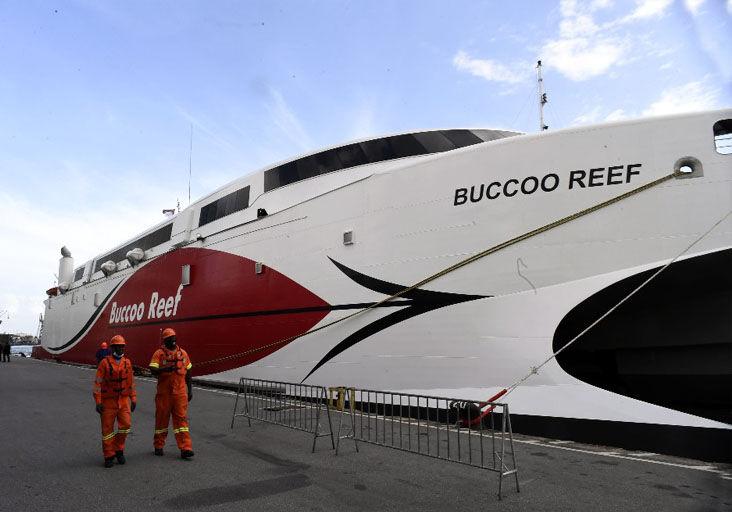 THE new Buccoo Reef fast ferry will begin commercial sailings from tomorrow, replacing the T&T Spirit which will go on dry-dock.
The T&T Inter-island Transportation Company, in a statement yesterday, said the new vessel will sail from Monday-Friday at 8 a.m. from the Port of Port of Spain and 4 p.m. from the Scarborough Port.
The TTIT said the Buccoo Reef ferry will sail on June 5 at 8.30 a.m. and 4 p.m. sailings.
Chairman of the Port Authority Lyle Alexander told the Express that the authority is happy to have the vessel added to the fleet of vessels servicing Trinidad and Tobago, even though all vessels are now operating at 25 per cent capacity due to the state of emergency (SoE) and public health regulations.
Alexander confirmed that the Buccoo Reef replaces the T&T Spirit, which is expected to undergo routine maintenance from June 5 at the Caribbean Dockyard, Chaguaramas.
"When the T&T Spirit is finished its routine maintenance it would then come back on the seas, until a decision is made about the vessel's future," Alexander said.
Tobago House of Assembly Chief Secretary Ancil Dennis said this is another step in the right direction for Tobago's tourism sector and economy generally.
"We are making drastic strides towards having all the systems in place to facilitate a more robust and successful tourism sector post-Covid. With two new fast ferries, new airport terminal, improved properties and facilities through our grant programmes, important certifications from Green Key and Blue Flags, we will soon launch our islandwide customer service training programme," Dennis added.
And, Works and Transport Minister Rohan Sinanan indicated that the Government is unable to host a commissioning ceremony for the vessel's maiden voyage on Friday, in light of the increase in Covid-19 cases.
"When things start to normalise, we will then consider hosting something, but certainly not at this time," Sinanan said.
The Buccoo Reef, which arrived on April 7 from Tasmania, Australia, remains docked at the Port Authority's Cruise Ship Complex in Port of Spain.
The vessel, built by the Incat shipyard, can accommodate 1,000 passengers, including crew, and 182 vehicles. Its price tag is US$73.5 million.