June 2, 2021
---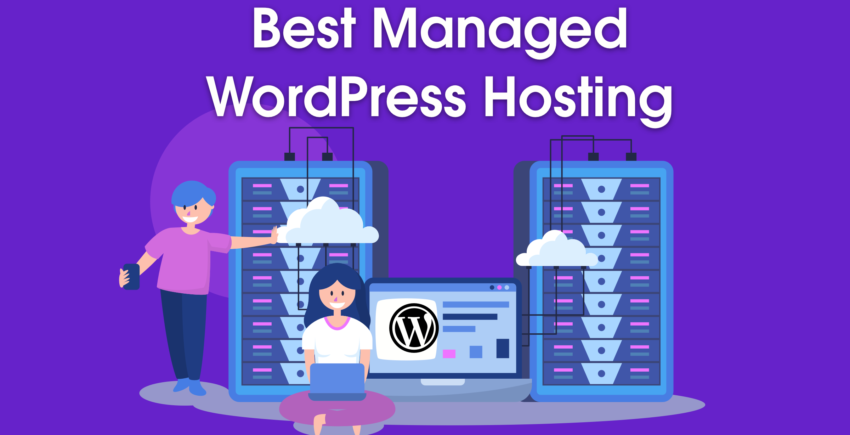 If you have a WordPress website, managed hosting can make your life easier. You can focus on the important aspects of your site, like design, content, and conversion rates, while someone else takes care of all the technical stuff.
But you know the technical side of things is no less important. Before you put your trust in a web host, you want to know it's going to do an excellent job. After all, you invest a lot of time and effort in your site, and you'll sleep better at night knowing it's in good hands.
Will your host provide daily backups? Will you have infrastructure that's optimized for performance? Will you get airtight security to prevent malware infections or even DDoS attacks? Will you be able to make changes to your site without impacting uptime?
To create this list of the seven best managed WordPress hosting services available this year, we evaluated dozens of providers. Read on to find out which one is best for you.
Short on Time? These are the best managed WordPress hosting services:
What We Look For in Managed WordPress Hosting
While managed WordPress hosting services aren't always cheap, in the long run, the benefits will show up in your company's bottom line. To make sure these providers actually deliver in the areas that are critical to your business, here are the key factors I checked for:
Performance: The hosting services on our list all offer consistent uptime, fast page loading speeds, and scalability during peak traffic periods. Anything less could negatively affect your customers' user experience, not to mention your search engine rankings.
Managed services: You're going to need automatic daily backups, security, performance optimizers, server and core updates, and more. I checked the quality of these features, the cost, and the level of setup required.
Price: Pricing is all about getting value for your money. I took a close look at what you get for the cost, what the terms are like, and whether refunds are guaranteed.
Developer features: If you're building websites for your clients, you want to be able to focus on the design without worrying about what goes on in the background. Staging sites, collaboration features, and workflow tools are all critical features for web professionals.
1. InterServer – A Great Mix of Value for Money, Features, and Managed Support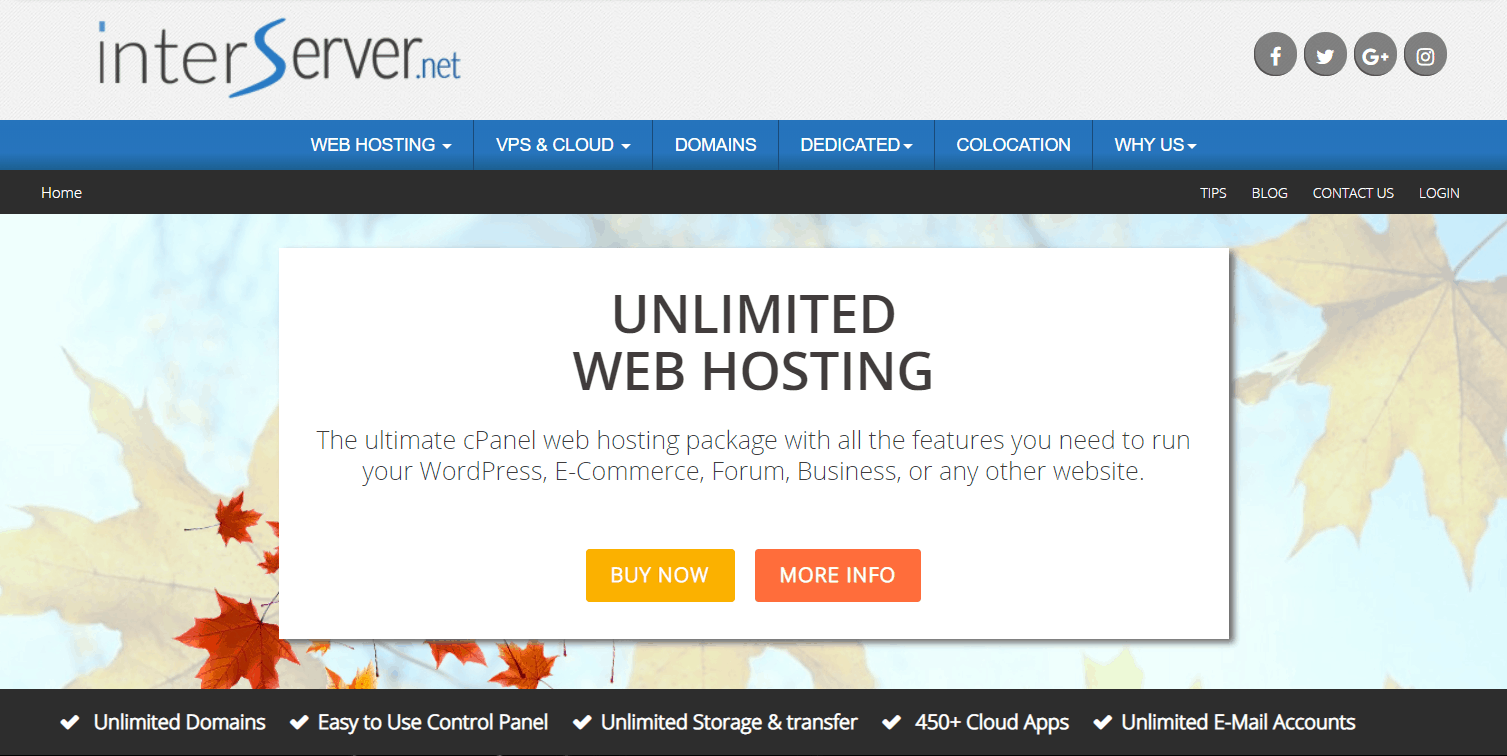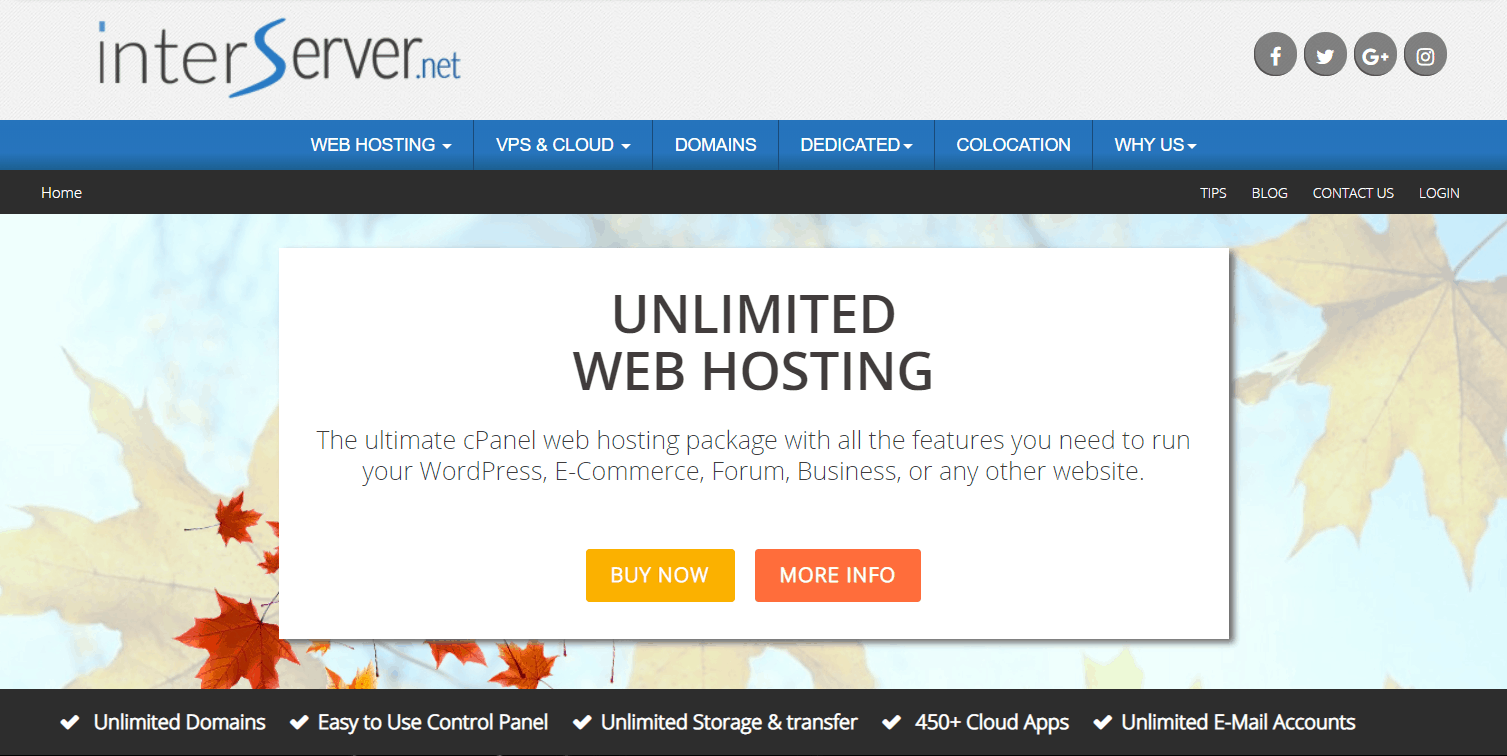 InterServer keeps things simple with just one shared hosting plan available, but it comes packed with almost everything a website owner needs. Not only that, but it's also extremely affordable, and includes InterServer's 24/7 support. Those are just some of the reasons it's gotten such great reviews.
Key Features
Unlimited resources – The shared hosting plan comes with unlimited SSD storage, unlimited bandwidth, and unlimited domains. That means you can build your website without worrying about arbitrary limitations, and also add more websites if the need arises.
American data centers – InterServer operates data centers in New Jersey and California, resulting in swift loading times for visitors from North America and Western Europe. Uptime is guaranteed at 99.9%, but our tests showed a perfect 100%.
Managed help – After personally trying out the service and talking with InterServer, I'm happy to report that the agents ably assisted me in setting up my account and installing my SSL certificate. Not only that, they also optimized my website and server performance.
Pros
InterServer will migrate your website for free. If you're currently hosted elsewhere and your website is hacked, the agents will clean it up and restore it themselves.
Shared plan includes excellent security tools such as the InterShield firewall and the Immunify360 malware scanner.
Fully operational cPanel control panel, for easy management and one-click WordPress installations.
Price lock guarantee – The low price you start with is never going to change. No price hikes and no hidden fees.
30-day money-back guarantee – It's always great to know you can try the service for real and get a full refund if it's not to your liking.
Cons
No free domain, although heavily discounted domains are available when signing up for a year or longer
Performance is excellent in the US, Canada, UK, France, and the Netherlands, but loading times can vary for visitors from further away
Choose InterServer If…
You're looking for affordable hosting that provides excellent value for money
Your main audience is located around North America and Western Europe
You already have a website, but it's suffering from low speeds, unavailability, or security breaches
2. A2 Hosting – Advanced Features That Are Easy to Use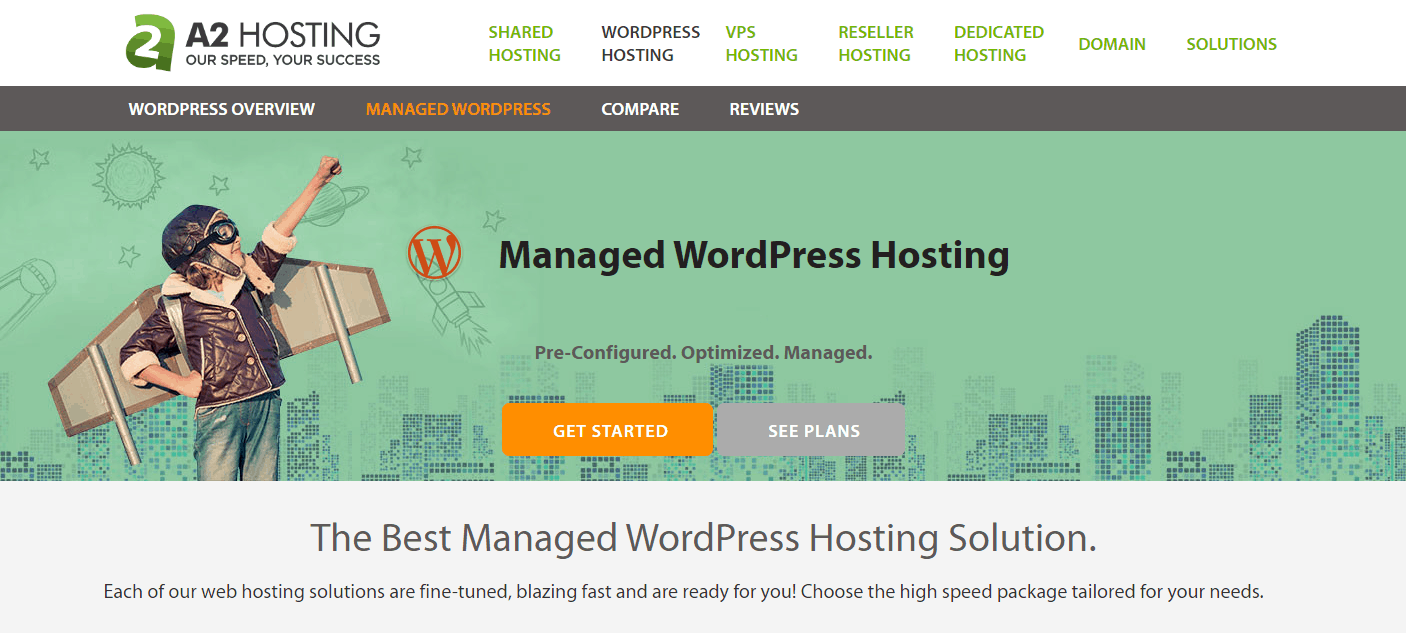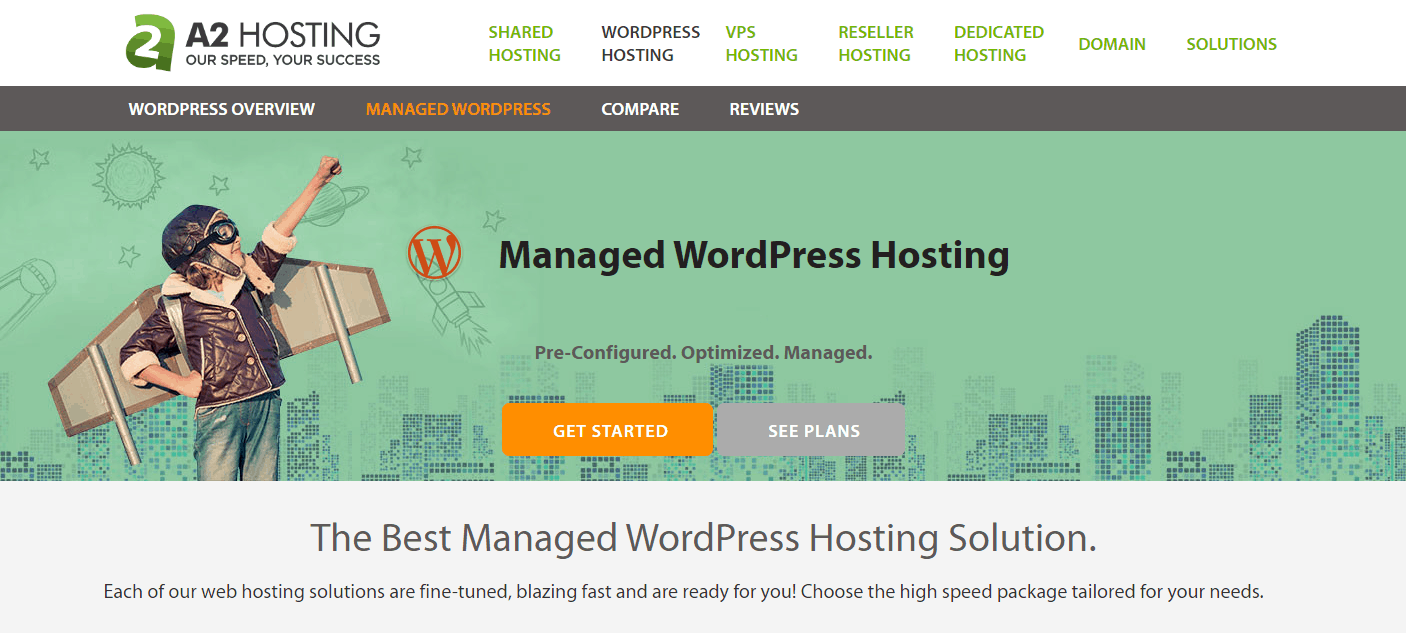 While it's well known for regular shared hosting, A2 Hosting also provides managed WordPress plans. Not only do these plans offer better performance, but they also come with a selection of handy tools and services designed to make your life as a website owner easier.
Key Features
Turbo servers – All managed WordPress websites are hosted on A2's turbo servers, which include extra speed optimizations and host fewer users, resulting in better overall performance.
Automatic updates – WordPress updates and patches are automatic, so you'll always have the most secure and up-to-date version running.
Backups – Easily set up both manual and automatic website backups, and configure their frequency, destination, and scope.
Staging sites – A must-have feature for trying out new features and implementing changes to your site. It allows you to duplicate your website and edit it freely, without affecting your visitors' experience.
Jetpack Personal license – This premium service is included with all managed plans. Jetpack provides extra protection protocols, performance-boosting features, and convenient widgets designed to enhance your WordPress experience.
Pros
A2's turbo servers provide better website loading times compared to most shared hosting plans available, giving you an edge over the competition.
While backups and staging sites are technically possible to configure on regular hosting, A2's managed plans streamline the process to save you from wasting time or having to hire outside help.
Important features, like an SSL certificate, free website migrations, and SSD-based servers, are included in all plans.
A2's "Anytime Money Back Guarantee" means you can ask for a pro rata refund at any point of your contract, so you never have to worry about getting stuck with a service you no longer require.
Cons
Only the most advanced managed plan lets you host unlimited websites, with the basic and intermediate plan limiting you to one and three websites, respectively.
A2's managed WordPress hosting is available only on the company's Michigan data center, whereas regular shared hosting is available on multiple data centers around the globe.
Choose A2 Hosting If…
You're looking to get advanced WordPress hosting features without sacrificing ease of use
You want to enjoy better performance, but aren't interested in dealing with the responsibilities that running a VPS entails
Most of your visitors come from North America and Western Europe
For more information, read our in-depth A2 Hosting review.
3. SiteGround – cPanel Hosting made Simple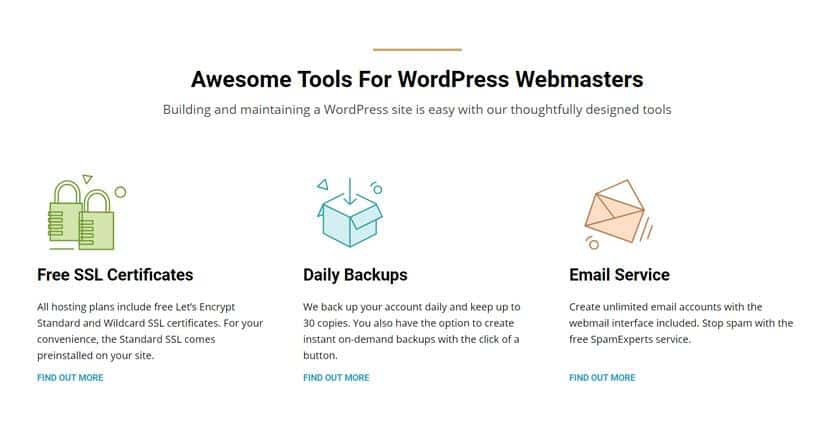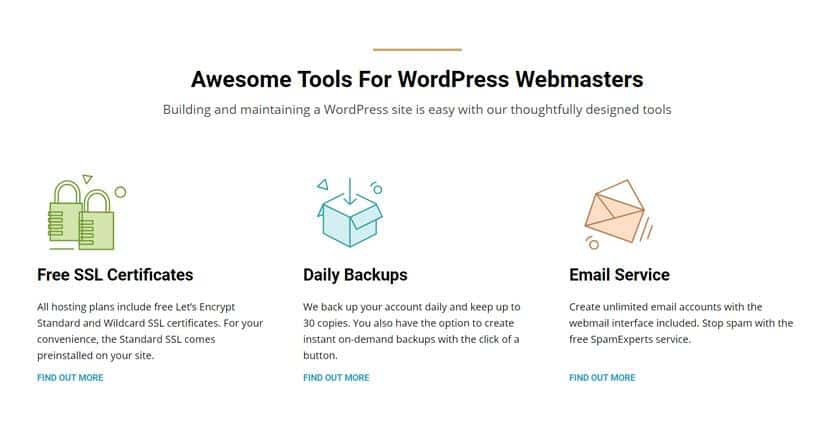 Bulgaria-based SiteGround is one of the go-to options for cheap yet high-quality managed hosting. Over the years, its platform has evolved to offer more features for developers or "power users," and it's become quite popular among users. SiteGround is also a global company with data centers around the world and support for multiple languages and currencies.
Key Features
cPanel: SiteGround offers hosting with cPanel, meaning you can install whichever apps and integrations you need and take more control of your hosting.
Cloudflare CDN: Cloudflare is integrated into the dashboard to simplify the process of setting up a CDN for your website.
Premium WordPress Support: With the GrowBig and GoGeek plans, you get priority tech support and free WordPress migrations.
Developer Tools: To accommodate businesses and advanced users on its platform, SiteGround now provides PCI-Compliant hosting, Git for WordPress, and staging environments.
WordPress and Speed Optimizers Pre-installed: Once you activate your account, you'll have WordPress pre-installed and ready to go, making SiteGround a great option for beginners. SiteGround will also install its in-house suite of caching tools on your website, so you'll have better speeds right from the start.
Pros
Superb uptime with most months at 100% and none below 99.97% in the past year
SiteGround has modified cPanel so it's far more accessible and better integrated with its own dashboard
Much more transparent than most other hosts: SiteGround publishes performance statistics and customer satisfaction survey results, and pricing is clearly displayed
All of SiteGround's managed WordPress plans allow you to create unlimited email accounts for free
SiteGround's support is excellent, which is reflected in its high customer satisfaction ratings. They're also available 24/7 and very responsive across multiple channels
Cons
Although inexpensive, the StartUp plan is somewhat restrictive in terms of visitors (10,000 monthly), storage (10 GB), and websites supported (just one). With this entry-level plan, you also won't have professional migrations or free backup restores
If you select a month-to-month option, you'll need to pay a high setup fee
The renewal prices can be three to four times higher than the introductory prices
Choose SiteGround If…
You're on a budget and can make do without a lot of advanced tools.
You'd rather steer clear of big names in favor of an independently-owned and much more reliable provider.
You're managing a small business without any dedicated technical personnel on board, so you need a beginner-friendly, all-inclusive package with superb support.
4. Liquid Web – For Your Mission-Critical Websites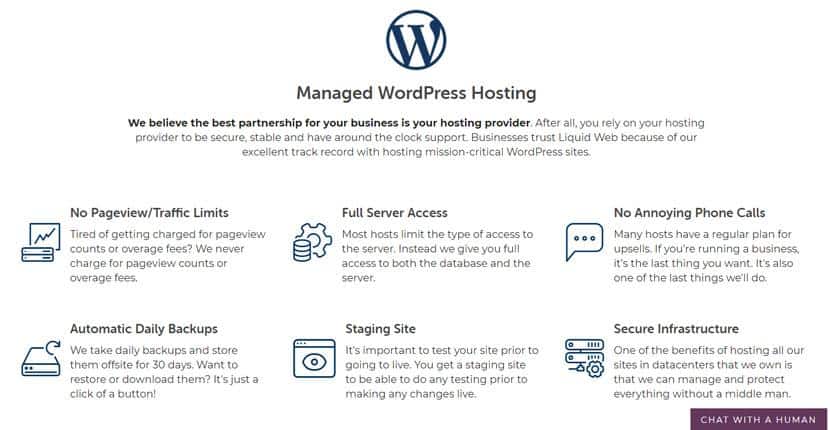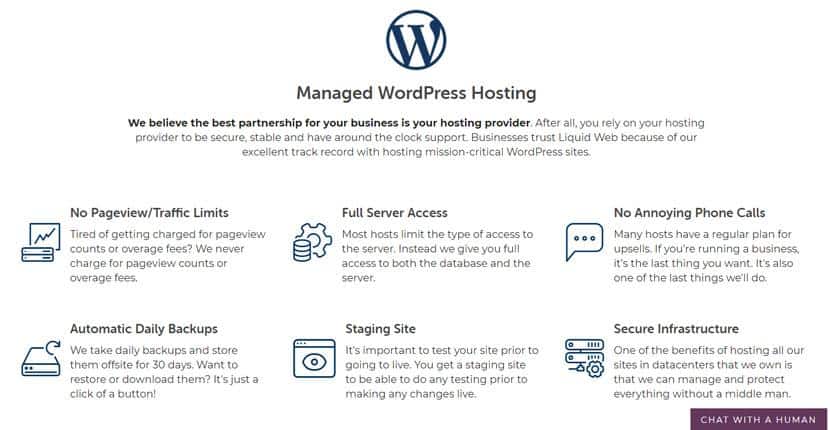 If you're part of a business or an agency that manages a large number of websites, the massively popular Liquid Web could be a great choice for you. The company provides stable, high-availability hosting for clients who cannot afford any downtime, and its superb performance, along with its excellent user reviews, earned it a spot on this list.
Key Features
iThemes Sync Pro: This premium plugin is automatically installed and comes with a host of handy tools like automatic updates, SEO checkers, theme and plugin managers, and more.
Full Server Access: Although Liquid Web offers a custom-built user interface, you'll still have total control of your hosting solution with full server and database access.
Built-in Cloudflare: Liquid Web allows you to set up the Cloudflare CDN directly from its dashboard.
Managed Updates: Liquid Web's team will make sure none of your plugins conflict with each other. Also, whenever a plugin needs to be updated, they'll test the updates in a separate environment and only update your live website when everything checks out.
Daily Backups and Automatic SSL: Liquid Web will make backups of your WordPress website daily. The backups will be stored off-site, and you'll find a handy button in your management panel to easily restore them without contacting support. SSL certificates are also auto-installed, so you won't have to configure them yourself.
Visual Comparison: This is a rare feature that'll give you a side-by-side comparison of what your website looks like before and after an update.
Pros
Liquid Web boasts rock-solid uptime with most months at 100%, backed by an SLA that promises 1,000% compensation for any downtime
The company provides support via three channels: live chat, email/ticket, and phone support with 24/7 availability and fast response times
The custom-built managed WordPress dashboard is one of the most polished I've used
While most managed WordPress hosts only handle your WordPress core updates, Liquid Web takes care of both your WordPress and plugin updates. This ensures that your website has all the latest vulnerability patches and bug fixes, but doesn't require design and coding tweaks every time an update is implemented
Great tools for developers, including staging sites and access to the underlying infrastructure
Cons
No refunds for managed WordPress hosting
The signup process can take some time, as there's an obligatory verification call
Connecting a domain can also take a while
The email/ticket support system doesn't always live up to Liquid Web's standards
Choose Liquid Web If…
Your company's profitability or reputation takes a huge hit with any amount of downtime, and you want to be sure you'll be compensated.
You're a developer managing multiple websites for your clients.
5. Kinsta – A Premium Option for Enterprise Needs
Compared to the other names here, Kinsta is a relatively new player in the market. However, it's already well-established as one of the best managed WordPress hosts around for medium to enterprise business needs, and users love it. Kinsta's platform is built on the super fast Google Cloud by their best and most experienced engineers.
Key Features
Multi-user Environment: You can create and manage multiple user logins, providing your team with the appropriate levels of access to your websites and billing info.
Integrated CDN: Kinsta provides in-dashboard integration with KeyCDN, which can easily be deployed on your website with the click of a button.
Mobile-friendly Dashboard: The MyKinsta dashboard is fully-responsive, so you won't need to download a separate app to manage your website. You can make backups, update plugins, chat with support, and even clear the cache while on the go.
Caching: Kinsta takes care of server-level caching, which means you won't have to figure out which of the many caching plugins is best for your WordPress website. In fact, many of Kinsta's customers report over a 45% decrease in loading times after switching to the Kinsta platform — even without installing any caching plugins.
Proactive Support: The Kinsta team proactively monitors your uptime and website performance. If they see that a script is causing long delays or that your SSL certificate has expired, they'll reach out to you and offer their assistance.
Add-ons: Kinsta has some of the best add-ons in the market already integrated into its dashboard, such as Elasticsearch, Cloudflare Railgun, Redis, and so on. You can also contact them regarding any special requirements.
Pros
18 global data center locations — by far the best on this list
Fantastic admin panel with website statistics displayed in colorful, user-friendly graphs
In the unlikely event that your website is hacked, Kinsta guarantees that they'll fix it for for free with the highest priority
One of the best custom dashboards in the managed WordPress space, which strikes a superb balance between functionality and UX
A range of eight plans covering the entire spectrum of business and enterprise hosting
Cons
No phone support available
Considering what you'll be paying, the storage limits, monthly visitor caps, and WordPress installations allowed are relatively low
No money-back guarantee, though you can cancel at any time for a prorated refund of the unused part of your remaining contract
Choose Kinsta If…
Your company mostly employs non-technical staff (like marketing personnel) who need to be able to maintain the WordPress website without the help of a developer.
You're looking for a business or enterprise hosting solution and have the budget for top-shelf security, performance, and features.
You're part of an agency or team that needs to collaborate on multiple website development projects.
6. WP Engine – Speed, Stability, and Security
If you have a need for speed, security, and availability, WP Engine has a lot to offer you. Like Liquid Web, it's a developer-focused service that offers access to the underlying infrastructure, along with a range of advanced tools.Click here to read what real users have to say.
Key Features
Genesis Framework: This top-class WordPress suite provides a handy set of tools to help you get started with your website, including quick-pick column layouts, reusable design modules, fully-responsive themes, and more.
Global CDN: WP Engine's integrated global CDN means you'll have optimized performance from the get-go, with no additional setup required.
GeoTarget: Helps you increase engagement and conversions by showing your visitors location-specific content.
Plugin Compatibility Checks: With the pre-screening of your WordPress plugins, you can be sure you'll only install the ones that are fully compatible and secure.
Proactive Traffic Monitoring: WP Engine's team actively monitors your website traffic and will reach out to help you implement a plan to deal with any anticipated traffic spikes. This means your website won't go down during critical moments — like when your CEO is on national television.
WP Engine Automated Migration: This custom-built plugin allows you to migrate your WordPress website with just a few clicks. If you have a massive and database-heavy website to shift over, the WP Engine team will also help you transition to their platform in stages, so you can make sure you won't lose any of your customer base in the move.
Pros
Above-average speeds with an integrated CDN, global data centers, and several layers of caching
Some of the best managed WordPress support you'll find, with tech-savvy staff and quick response times
60-day money-back guarantee
Secure hosting platform with no major hacking incidents and very few anecdotal accounts of minor security breaches
You'll get a full two months of hosting free if you opt for an annual WP Engine plan
Cons
Pricier than other hosts on this list
Initial setup can be complex, and if not done correctly, may lead to fatal issues for your website later on
Monthly visitor limits
Choose WP Engine If…
Budget is not an issue, and you want hosting that gives you greater peace of mind.
You work in an industry that's particularly prone to hacking or DDoS attacks, and you need the best security possible.
Get Peace of Mind with These Top Managed WordPress Hosts
With so many factors to weigh, it can be hard to single out a specific host. The best approach is to think about your current needs, budget, and level of experience, and then choose a host that meets your requirements.
Use the table below for quick reference: